What's it worth to your company to have well-trained, productive employees who get up to speed faster and stay in their jobs longer?
Let's assume quite a bit.
Your onboarding program matters; it sets the tone for new hires and directly impacts your company's ability to grow. Great onboarding can boost employee performance, reduce ramp time, and even improve retention.
Shouldn't your program be the best it can possibly be?
This webinar and summary post are designed to help you build an onboarding program that drives better business outcomes. Discover frameworks like the 5 Critical Cs of Onboarding and the 3 Indicators of Employee Longevity to take your onboarding to the next level.
Build a Better Onboarding Program
Watch the full webinar to supercharge your onboarding program
Northpass recently hosted Set Your People Up for Success with Better Onboarding, a webinar featuring Michelle Hoover of Baem Leadership.
Michelle established the Leadership and Learning function at Audible, an Amazon company, and built out the corporate training function at General Assembly. She and her teams have designed, delivered, and facilitated talent development programs for more than 15,000 learners across five continents throughout her 14 years in leadership and management development.
In the webinar, we 1) discuss the reasons effective onboarding is so critical, 2) reveal tips and best practices for building a world-class onboarding program, and 3) answer some onboarding-related questions from our audience.
This post captures some of Michelle's key talking points. Check it out.
Improving the Employee Experience
Above is a depiction of the traditional employee lifecycle. You'll notice onboarding is commonly thought of as a distinct "phase" of the lifecycle, one that takes place only after recruitment.
According to Michelle, this sort of thinking is outdated. Instead, onboarding should begin prior to recruitment and, if done well, its benefits will extend throughout the development and retention phases.
Just like users want better user experiences and customers want better customer experiences, so too do employees want better employee experiences. Great onboarding programs give them exactly that, from their first visit to your website until their last day at the office.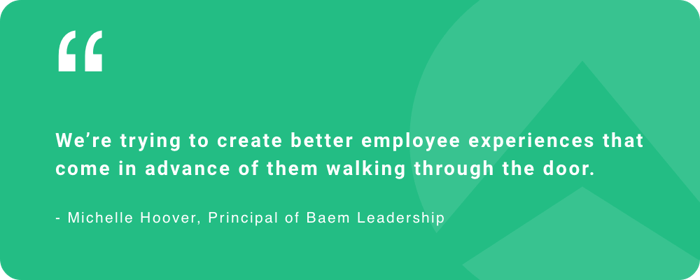 Ultimately, great onboarding means delivering on a compelling brand promise. Candidates are attracted to (or turned off by) an "employee value proposition" that's communicated - knowingly or not - from their first point of contact with your company. Prospective employees will come with pre-established expectations about your company. Be conscious about how you influence them.
3 Indicators of Employee Longevity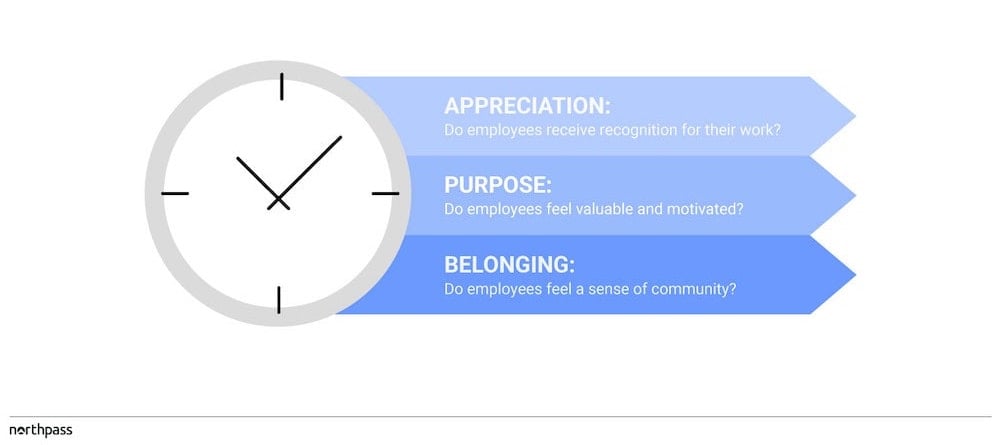 One primary objective of any onboarding program is to "lay the foundation for an employee's long-term engagement and performance."
Why? Because turnover is time-consuming and expensive.
According to the Society for Human Resource Management, it can cost 6-9 months of an employee's salary to backfill a position. Meanwhile, LinkedIn reports that the average time to hire for most companies is 1-4 months. That's a lot of time and money spent on recruiting. Extending average employee tenure will help maximize the ROI of every new hire.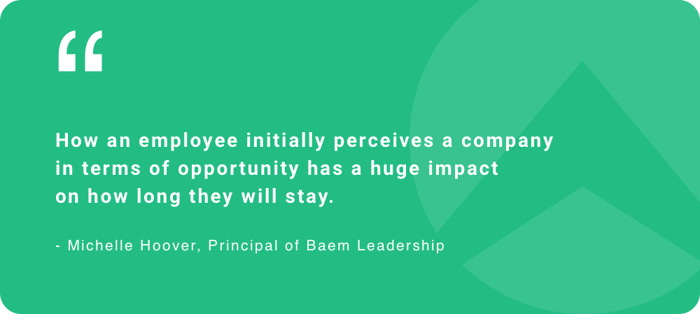 A great onboarding program can actually improve employee retention by helping to cultivate an emotional connection between the employee and the workplace. Such a connection is critical for the employee to begin seeing the employer as a long term option. Ensure your onboarding program accounts for the 3 Indicators of Employee Longevity:
Appreciation:
Do your employees feel appreciated for the work they do? Are they being properly recognized? A culture of appreciation becomes apparent very early on, as does a culture of criticism and disregard. Start off on the right foot.
Purpose:
Does their work provide your employees with a sense of purpose? Are your people inspired, or are they simply surviving? A company with an inspired workforce almost can't help but grow. Such a culture is contagious and can be felt by everyone, from prospects and new hires to seasoned veterans.
Belonging:
Do your employees feel as though they belong to a community? Are your people eating lunch alone, or grabbing drinks with coworkers after hours? Catalyzing healthy social dynamics is important for any company that values employee retention.
5 Critical Cs of Onboarding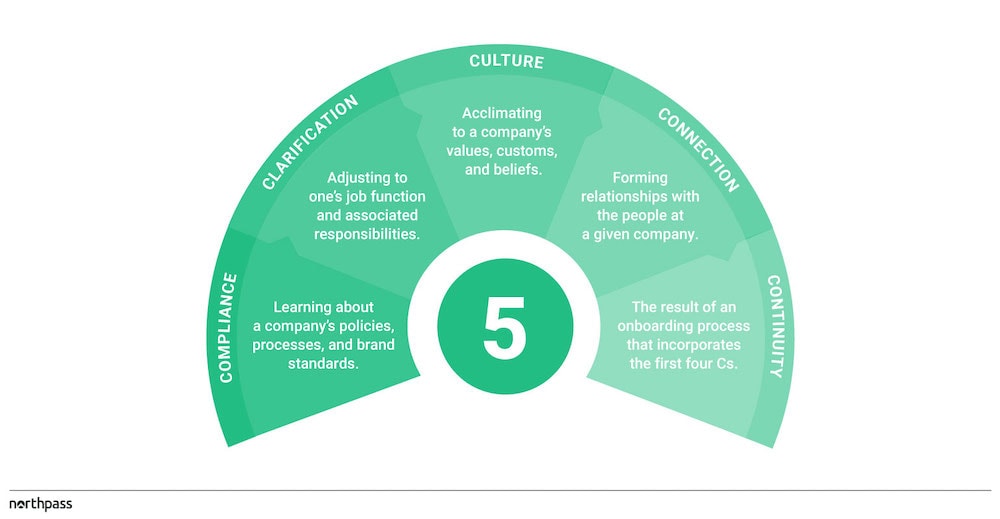 To help companies craft better employee experiences through onboarding, Michelle came up with the 5 Critical Cs framework. The 5 Cs are as follows:
1. Compliance
Where do I park? What can I wear? How do I request paid time off? This is the sort of training that every employee must undergo in order to ensure compliance with company-wide practices and expectations.
2. Clarification
What is my day-to-day? How is performance measured? What tools are we using? This kind of training is specific to each employee's role and helps provide clarity around their unique responsibilities, goals, and best practices.
3. Culture
How late am I expected to stay? What should I do if I disagree with my boss? Culture fit matters. It is critical that you communicate the behaviors and attitudes that are common or expected at your company.
4. Connection
Who can I ask for help? Do my coworkers like me? If belonging is one of the key indicators of employee longevity, then facilitating personal connections is a necessary component of an effective onboarding program.
5. Continuity
I really like what I'm doing and who I'm working with. I think I can be successful here. When the first 4 Cs are present in your onboarding program, a new employee feels a sense of continuity and will begin to consider their long-term prospects at your company.
It's worth noting that most companies will over-index on numbers one and two. While compliance and clarification are important for performance, neither will address the three indicators of employee longevity outlined above. As such, it's vital that your onboarding program also accounts for culture, connection, and continuity.
Common Onboarding Program Mistakes
You need to know what works, but it's equally important to know what doesn't. We asked Michelle to identify some common onboarding mistakes.
Lack of shared ownership - "HR will take care of it." We've all heard it before. Maybe we've even said it ourselves. But when it comes to onboarding, that sentence is the kiss of death. Onboarding needs to be a team sport, and your entire organization needs to be aligned in order to deliver a superior employee experience.
Timetables instead of outcomes - Onboarding should be outcome-oriented, not a time-bound process. The amount of time required to effectively onboard a new hire will likely vary based on the individual, their role, or the maturity of your company. While deadlines are important, make sure you're building your onboarding program to achieve specific outcomes.
Failure to measure results - If you're building a program to achieve certain outcomes (as mentioned above), it's critical that you find a way to measure your results. This is where a technology partner like Northpass can be immensely helpful through its robust analytics and reporting tools.
Lack of automation - Throughout their many onboarding-related processes, L&D and HR professionals waste countless hours performing manual tasks that could easily be automated with the right tool(s) in place. If your organization's growth is being stifled by such redundancy, it's time for a technology solution that can automate workflows and many of the associated tasks that have historically eaten into a ton of bandwidth.
Go Further, Faster
Are you ready to transform your onboarding program into a competitive advantage? With the right people, technology, and concepts in place, you can turn onboarding into a powerful engine that will help your business go further, faster.
It all starts with you. Have you created a compelling brand promise and employee experience? Are you setting your people up for long-term success? Do you have the proper tools in place to measure your results and prove ROI?
We created this webinar to help you get going in the right direction. Once your organization is aligned internally and you're ready for a technology partner, look no further than Northpass.
Book a demo today to learn how Northpass can help you set your people up for success!