The growing attention on company culture in the startup world is due in part to our industry's difficulty in articulating the concept. What is company culture anyway? We know admirable examples of company culture when we see them. But defining the idea isn't as obvious.
Company culture shapes the workday experience of each employee. It emerges from the company's mission, mood, values, expectations, goals, hiring choice and even floorplans — all those factors, great and small, that shape the company's overall direction. Company culture can determine if someone "likes" their job or values their company, and it certainly permeates every Glassdoor review.
---
Want more content from Northpass? 🚀
Understanding Time to Value & Decrease it with Customer Education
What's a Customer Onboarding Template? (+ Why You Need One)
Creating a Learning Culture: 8 Ways to Get Everyone Excited
---
Even if we had a clear definition of company culture, there is no recipe book to follow for producing the kind of company culture you want.
So, because company culture is a concept that is easier to experience than to describe, we decided to turn to those who have already said it best. In the 50 company culture quotes that follow, you're bound to find inspiration. They each capture something profound in a succinct and meaningful way.
But first, a quick note about these company culture quotes: We've aimed to track down the original publication behind each quote — a book, an article, a blog post, a TED talk. We encourage you to bookmark this list so you can dig into these entrepreneurial thought leaders later.
Culture quotes to transform your approach to company culture:
1. Corporate culture is the only sustainable competitive advantage that is completely within the control of the entrepreneur. Develop a strong corporate culture first and foremost.
— David Cummings, Co-founder of Pardot
2. Starbucks was founded around the experience and the environment of their stores. Starbucks was about a space with comfortable chairs, lots of power outlets, tables and desks at which we could work and the option to spend as much time in their stores as we wanted without any pressure to buy. The coffee was incidental.
— Simon Sinek, Author, motivational speaker and marketing consultant
3. An organization's ability to learn, and translate that learning into action rapidly, is the ultimate competitive advantage.
— Jack Welch, Former CEO of General Electric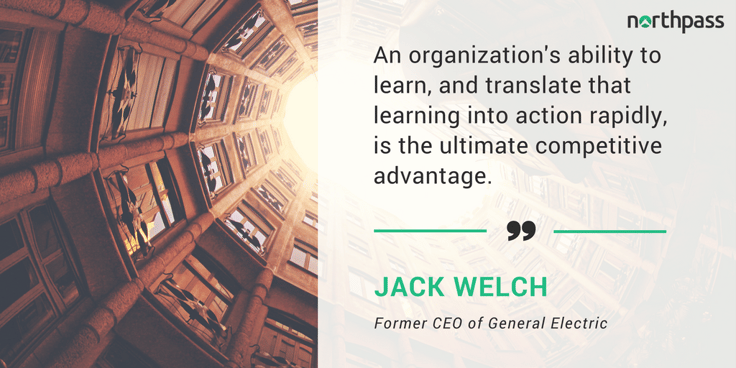 4. Until I came to IBM, I probably would have told you that culture was just one among several important elements in any organization's makeup and success — along with vision, strategy, marketing, financials, and the like... I came to see, in my time at IBM, that culture isn't just one aspect of the game, it is the game. In the end, an organization is nothing more than the collective capacity of its people to create value.
— Louis V. Gerstner, Jr., Former CEO of IBM
5. I look for two things when I hire a new employee: ambition and humility. Without a proven track record of initiative and ambition, it's likely the person becomes a drain rather than a contributor to the company — even the really smart, talented ones.
— Justin McLeod, Founder and CEO of HingeRelated reading: Building Team Culture as You Grow: 5 Powerful Strategies
6. A company can't buy true emotional commitment from managers no matter how much it's willing to spend; this is something too valuable to have a price tag. And yet a company can't afford not to have it.
— Stan Slap, CEO of Slap Company
7. Talent is the multiplier. The more energy and attention you invest in it, the greater the yield.
— Marcus Buckingham, Author and business consultant
8. Here's what you tell the high performers. Come spend time with us if you want to do something special. Don't take it personally if you get yelled at for something you did not do. Get over it, and I am sure we will apologize when we find time. If you ask for help, we will be there. If you do not ask for help, we will assume that you are performing in a blaze of glory so be ready to show it. Don't tell us later that you were confused or did not agree with what we were doing. You can say whatever you want to whomever you want when the decision is up for discussion — and this will be encouraged in many formats, from quick huddles to day-long strategy sessions. But when the decision is made, you march with the decision and not with what makes you happy.
High Performance Happy does not like a lot of unnecessary processes and rules, which is why entrepreneurs have to let high performance people make decisions. If you trust them with your mission and with hundreds of important daily choices, you can also trust them to handle their vacation schedule, their paid time off, and the tools they need to get the job done.
— Cliff Oxford, CEO at Oxford Center for Entrepreneurs
9. Good leadership requires you to surround yourself with people of diverse perspectives who can disagree with you without fear of retaliation.
- Doris Kearns Goodwin, American biographer, historian, and political commentator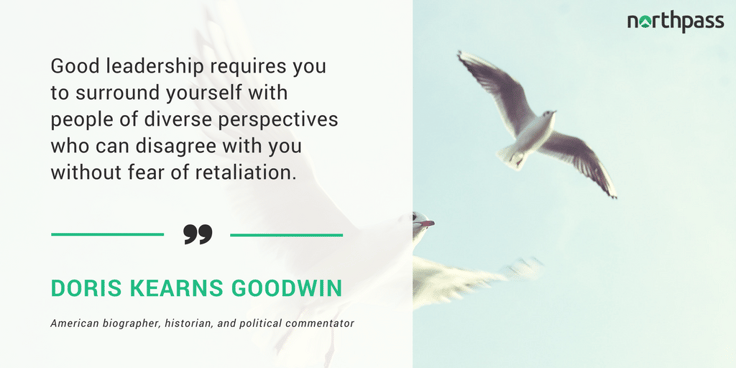 10. In determining the right people, the good-to-great companies placed greater weight on character attributes than on specific educational background, practical skills, specialized knowledge, or work experience.
— Jim Collins, Business consultant and author of Good to Great Related reading: How Invision Uses Slack to Power Culture and Communication
11. A pattern of shared basic assumptions invented, discovered or developed by a given group as it learns to cope with its problems of external adaptation and internal integration that have worked well enough to be considered valid and therefore, to be taught to new members as the correct way to perceive, think and feel in relation to those problems.
— Edgar Schein, Author and former MIT professor
12. Leadership is absolutely about inspiring action, but it is also about guarding against mis-action.
— Simon Sinek, Author, motivational speaker and marketing consultant
13. The most vocal challengers to most cultures are the first to be shown the door. It's in human nature to want to eliminate the most disruptive people. And it's also human nature to want to bring in more people that fit in well. Repeat these two behaviors over time and culture becomes homogeny, even if everyone still believes the culture values diversity.
— Scott Berkun, Author and speaker
14. There is a high cost associated with building a culture: team retreats, gym memberships, personal and professional development classes. All this is to facilitate the personal evolution of each person who contributes to the company. And, what are our results? In three years, not one employee has voluntarily left, which is a phenomenon that we believe can be replicated at any organisation. We have the receipts to show how much it cost, and we also have uncovered the more obscure internal metrics that impact employee satisfaction and prevent voluntary turnover.
— David Hassell, Founder and CEO of 15Five
15. We can change culture if we change behavior.
— Dr. Aubrey Daniels, Founder of ADI
16. Once you have an innovation culture, even those who are not scientists or engineers — poets, actors, journalists — they, as communities, embrace the meaning of what it is to be scientifically literate. They embrace the concept of an innovation culture. They vote in ways that promote it. They don't fight science and they don't fight technology.
— Neil Degrasse Tyson, Astrophysicist, cosmologist, author, and science communicator
17. Culture makes people understand each other better. And if they understand each other better in their soul, it is easier to overcome the economic and political barriers. But first they have to understand that their neighbour is, in the end, just like them, with the same problems, the same questions.
— Paulo Coelho, Brazilian lyricist and novelist
18. Growing a culture requires a good storyteller. Changing a culture requires a persuasive editor.
— Ryan Lilly, Entrepreneurship and economic development consultant
19. Presenting leadership as a list of carefully defined qualities (like strategic, analytical, and performance-oriented) no longer holds. Instead, true leadership stems from individuality that is honestly and sometimes imperfectly expressed. ... Leaders should strive for authenticity over perfection.
― Sheryl Sandberg, COO of Facebook and Founder of Leanin.org
20. The real competitive advantage in any business is one word only, which is "people".
— Kamil Toume, Writer and thought leader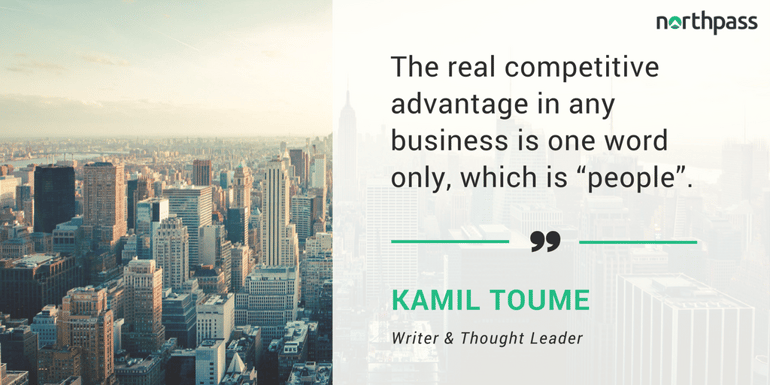 21. You want to set goals that you can hit, so when you start hitting them, you can celebrate those wins. People start trusting in your way of projecting the business.
— Wiley Cerilli, Founder and former CEO of SinglePlatform
22. Employees who believe that management is concerned about them as a whole person — not just an employee — are more productive, more satisfied, more fulfilled. Satisfied employees mean satisfied customers, which leads to profitability.
— Anne M. Mulcahy, CEO of Xerox
23. The way I think about culture is that modern humans have radically changed the way that they work and the way that they live. Companies need to change the way they manage and lead to match the way that modern humans actually work and live. We're trying to re-craft culture in a way that really matches that. I think that 99% of companies are kind of stuck in the '90s when it comes to their culture.
— Brian Halligan, CEO of HubSpot
Related reading: 11 Unique Team Training Ideas for Managers
24. If you are lucky enough to be someone's employer, then you have a moral obligation to make sure people do look forward to coming to work in the morning.
- John Mackey, Whole Foods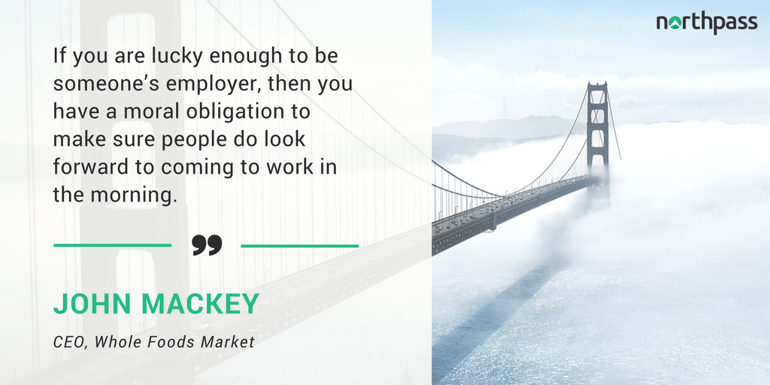 25. If culture is like personality or character, then it matters in the sense to what extent is the culture adaptive to both the external and internal realities. If it's not adaptive, it matters a lot. If it's adaptive, it doesn't matter much, people don't notice it, they just go along their merry way. So culture really only matters when there is a problem. In the same sense that personality only matters when things aren't working right for you. Otherwise it's just there. It's part of you.
— Edgar Schein, Author and former MIT professor
26. The goal is not to do business with everybody who needs what you have. The goal is to do business with people who believe what you believe.
— Simon Sinek, Author, motivational speaker and marketing consultant
27. A company's culture is the foundation for future innovation. An entrepreneur's job is to build the foundation.
— Brian Chesky, Co-founder and CEO of Airbnb
28. There are only three measurements that tell you nearly everything you need to know about your organization's overall performance: employee engagement, customer satisfaction, and cash flow ...It goes without saying that no company, small or large, can win over the long run without energized employees who believe in the mission and understand how to achieve it…
— Jack Welch, Former CEO of GE
29. Connect the dots between individual roles and the goals of the organization. When people see that connection, they get a lot of energy out of work. They feel the importance, dignity and meaning in their job.
— Ken Blanchard and Scott Blanchard, Co-author of The One Minute Manager and EVP of Client Solutions for The Ken Blanchard Companies (respectively)
30. Always treat your employees exactly as you want them to treat your best customers.
— Stephen R. Covey, Author of The 7 Habits of Highly Effective People
31. Employee engagement is the art and science of engaging people in authentic and recognized connections to strategy, roles, performance, organization, community, relationships, customers, development, energy and happiness to leverage, sustain and transform work into results."
— David Zinger, Employee Engagement Consultant
32. I consider my ability to arouse enthusiasm among my people the greatest asset I possess, and the way to develop the best that is in a person is by appreciation and encouragement. There is nothing else that so kills the ambitions of a person as criticism from superiors. I never criticize anyone. I believe in giving a person incentive to work. So I am anxious to praise but loath to find fault. If I like anything, I am hearty in my appreciation and lavish in my praise.
― Charles Schwab, American investor, financial executive and philanthropist
33. A hallmark of a healthy creative culture is that its people feel free to share ideas, opinions, and criticisms. Lack of candour, if unchecked, ultimately leads to dysfunctional environments.
— Ed Catmull, President of Pixar
34. Culture guides discretionary behavior and it picks up where the employee handbook leaves off. Culture tells us how to respond to an unprecedented service request. It tells us whether to risk telling our bosses about our new ideas, and whether to surface or hide problems. Employees make hundreds of decisions on their own everyday, and culture is our guide. Culture tells us what to do when the CEO isn't in the room, which is of course most of the time.
— Frances Frei and Anne Morriss, Co-authors of Uncommon Service: How to Win by Putting Customers at the Core of Your Business
35. . . . when you're in a small boat, you can see who's paddling hard and who's looking around.
— Ev Williams, Co-Founder of Medium, Co-founder of Twitter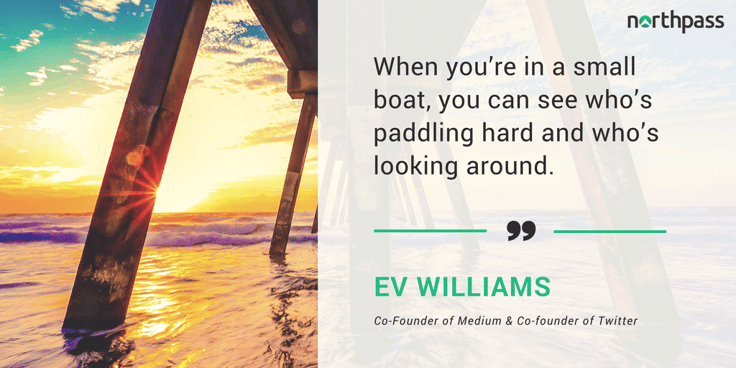 36. Every CEO is in fact a Chief Cultural Officer. The terrifying thing is it's the CEO's actual behavior, not their speeches or the list of values they have put up on posters, that defines what the culture is. Without these four powers (Hiring, Firing, Promoting, Punishing) any employee at the company is along for the ride in a culture driven by someone more powerful than they are.
— Scott Berkun, Author and speaker
37. Culture is the deeper level of basic assumptions and beliefs that are shared by members of an organization, that operate unconsciously and define in a basic 'taken for granted' fashion an organization's view of its self and its environment.
— Edgar Schein, Author and former MIT professor
38. Authentic engagement is not available upon demand. It's less like today's Keurig and more like the old-style percolator: instead of coffee at the push of a button, coffee grounds and water were put together, with heat applied and time allowed for one to permeate the other.
— Julie Winkle Giulioni, Co-founder of DesignArounds
39. Shaping your culture is more than half done when you hire your team.
— Jessica Herrin, founder Stella & Dot
40. Culture does not change because we desire to change it. Culture changes when the organization is transformed; the culture reflects the realities of people working together every day.
— Frances Hesselbein, Former CEO of Girl Scouts of the USA.
41. Engendering a culture of trust also does wonders. This is because, even if you have a heated argument, as long as you keep in the back of your mind that the people you're arguing with do have the best in mind for the company and wider team, you'll always be able to make it to the end and remain friendly.
— Patrick Campbell, Co-founder and CEO of ProfitWell
42. The biggest challenge was to restore a dying organization, which was losing money, to growth and profitability. The first steps were not: Cutting costs, developing new products and/or services, inventing clever new marketing concepts, or clever advertising! Instead, the first steps were: Rebuilding a culture where all employees were a family, striving for a "shared" success! The basis for this success turned out to be winning major races again.
— Peter Schutz, Retired CEO of Porsche AG Worldwide
43. Anything that is measured and watched, improves.
— Bob Parsons, Founder of Godaddy group
44. No matter how brilliant your mind or strategy, if you're playing a solo game, you'll always lose out to a team.
— Reid Hoffman, Co-founder of LinkedIn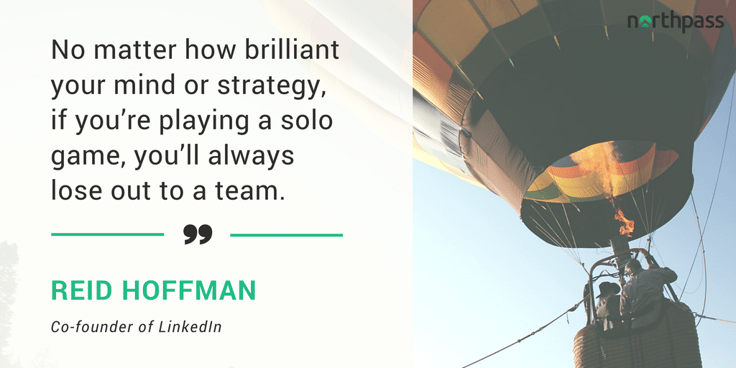 45. So often people are working hard at the wrong thing. Working on the right thing is probably more important than working hard.
— Caterina Fake, Co-founder of Flickr and Co-founder of Hunch
46. A team aligned behind a vision will move mountains. Sell them on your roadmap and don't compromise — care about the details, the fit and finish.
— Kevin Rose, Founder of Digg and Partner at Google
47. Maintaining an effective culture is so important that it, in fact, trumps even strategy.
— Howard Stevenson, Professor Emeritus at Harvard University
48. Why is culture so important to a business? Here is a simple way to frame it. The stronger the culture, the less corporate process a company needs. When the culture is strong, you can trust everyone to do the right thing.
— Brian Chesky, Co-founder and CEO of Airbnb
49. I noticed that the dynamic range between what an average person could accomplish and what the best person could accomplish was 50 or 100 to 1. Given that, you're well advised to go after the cream of the cream. A small team of A+ players can run circles around a giant team of B and C players.
— Steve Jobs, Co-founder of Apple and former CEO
50. This is not about fuzzy, holding hands around a campfire, kumbaya stuff. That's not what values and culture and mission is about. This is about building an organization for success. This is about winning. This is about doing the tactical things to make sure your organization and your people are aligned around the same thing.
— Justin Moore, CEO of Axcient
Company culture does so much to attract top talent, retain great employees and ensure people operations are always performing at its best. These results are best exemplified by the company culture quotes above and the success of the leaders quoted.
If you're looking to inspire your company, consider doing it through training. Let us show you how, by booking a 30-minute demo.