Product management and customer education may seem like two sides of the coin, but in reality, they have a lot in common.

Both require an understanding of your customers—product managers oversee the launch and development of the product while customer education teams ensure customers understand the how and why behind it.
The parallels don't stop there.
This article explores how a product mindset and tools, like personas, the empathy map canvas, and customer journey mapping are tied to customer education and, more importantly, how they can help you launch a digital customer academy.
Jump to Content
Using Personas to Develop Your Digital Customer Academy
Product development is rooted in personas and expectations—who is the product for and what are people using it for?
Ask any product manager how they kick off development and I'd wager a pretty big bet that most of them will tell you they start with a handful of questions:
What's the role of my user in their organization?

What's their background and education?

Are they tech-savvy?

What do they know about my product or similar ones?

What motivates them?

What high-level goals do they have?

What tools do they already use?

What are their pain points?
The answers to these questions create a persona, helping product managers create products that cater to their users' needs and overcome their challenges.
The same goes for you when building an academy.
Consider this person for Adam, a Digital Customer Education Manager at YakCRM.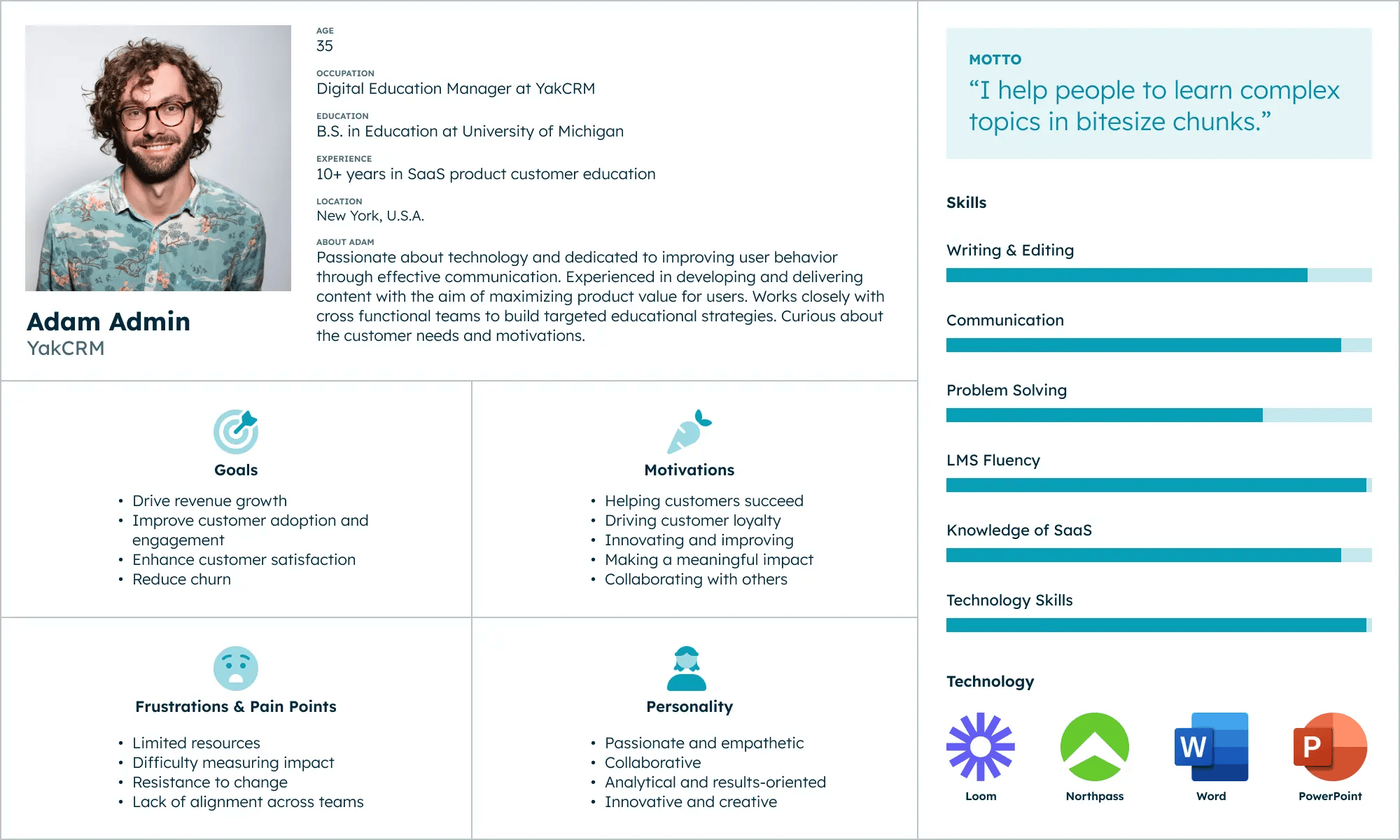 What does this persona tell us about him and what would he prioritize in a product like a learning management system (LMS)?
For example:
He has limited resources, so it should be easy to create and update content.

He currently has difficulty measuring impact, so robust analytics are important to him.

He values collaboration across teams, some a community element would be nice.
These insights into Adam's life can provide you with a strong foundation to create relevant content, identify the most effective promotional tactics and, ultimately, launch an academy that drives the best business and customer outcomes.
Putting Yourself in Your Customers' Shoes with the Empathy Map Canvas
Product managers use the empathy map canvas as a way to put themselves in their customers' shoes.
According to Dave Gray, who helped design the Empathy Map Canvas, it helps teams "develop deep, shared understanding and empathy for other people. People use it to help them improve customer experience, navigate organizational politics, to design better work environments and a host of other things."
The Empathy Map Canvas aims to answer a series of questions:
WHO

are we empathizing with?

What do we want them to

DO

?

What do they

SEE

?

What do they

SAY

?

What do they

DO

?

What do they

HEAR

?

What do they

THINK & FEEL?

Empathize to Educate: Using the Empathy Map Canvas in Digital Customer Education
When Dave and co. developed the Empathy Map Canvas more than a decade ago, I doubt they did so with customer education in mind; customer education wasn't really a thing.
But it is now, and you can use it when launching your academy.
Here's what that could look like if you were developing an academy for your marketing attribution software:
WHO are we empathizing with? (Who are you trying to understand, and what's their situation?)

Example: Customer Education Managers who work within their company's customer success team and are responsible for customer onboarding and training.

What do we want them to DO? (What do they need to do differently? What do they need to get done? What decisions must they make?)

Example: During a typical day, they create content, engage customers and, ultimately, equip them with the knowledge they need to unlock the product's full value.

They use metrics like the number of support tickets and time to value (TTV) to determine the impact of their customer training program.


What do they SEE? (What do they see in the marketplace and environment? What do they see others doing? What are they watching and reading?)

Example: They see a complex product that requires too much hand-holding from customer-facing teams and support reps bogged down with tickets. They also see ads for learning platforms but don't think they'll get leadership buy-in.

What do they SAY? (What have we heard them say? What do we imagine them saying?)

Example: Training thousands of customers is challenging and time-consuming. The only way I can keep up is to work long hours or hope my boss increases headcount. Not only do I not have time, but I don't have access to the learning data I need to see if my content is working.

What do they DO? (What do they do today? What can we imagine them doing?)

Example: Seek efficiencies, spread their bandwidth thin across their accounts, and complete a myriad of manual tasks to keep pace with their scaling account list. They also spend a considerable amount of time creating content to keep up with the evolving product

What do they HEAR? (What are they hearing others say (friends, colleagues, second-hand, etc.)

Example: We need our customers to organically engage with our product more because our support costs are too high. We need you to onboard 10 new accounts by the end of the week.


What do they THINK & FEEL? (What are their fears and frustrations? What are their wants and needs?)

Example: There's not enough content adoption and no way to measure performance. They need ways to be more productive, get customers to consume content, and easy ways to update resources as time goes on.
Once you understand what makes your customers tick, you can put them at the forefront of your academy build and create a learning experience that'll resonate and help them unlock your product's full potential.
Mapping Your Way to a Better Customer Education Experience
Customer journey mapping is as synonymous with product management as Mondays are to coffee.
Think of customer journey mapping as a treasure hunt. You want your friends (the customers) to have an amazing adventure as they follow clues (interactions with your product or service) to find the treasure (their desired outcome).
Customer journey mapping is like designing this hunt to ensure your friends have a good time. Your goal is to visualize and understand the path they could take, the challenges that may come before them, and the emotions they'll feel along the way.
Here's an example of the journey:
Awareness:

The customer becomes aware of the product through advertising, social media, or word-of-mouth. They identify a problem or need the product or service can solve.

Consideration:

The potential customer visits the company's website or third-party sources to learn more.

Trial or Demo:

The customer signs up for a free trial or creates an account. They explore the product,

test features

, and evaluate if it's right for them.

Purchase:

The customer decides if the product meets their needs. If so, they purchase or subscribe.

Onboarding:

The customer's guided through the onboarding process , which may include tutorials, videos, and emails.

First Use

: The customer uses the product for the first time, exploring its features and functionality.

Continued Use:

The customer continues to use the product, potentially encountering challenges or obstacles along the way. Customer success managers (CSMs) and customer education managers work with the customer to ensure the ongoing adoption of new features.

Renewal:

The customer decides to renew or move on to a different product. They may

upgrade to a higher-tier plan

or purchase more features. (CSMs will often drive these

expansion opportunities

.)

Advocacy:

The customer becomes a loyal advocate and shares positive experiences with others, participating in referral programs, case studies, and more.
Knowing the customer journey is important because it helps you understand your customers' actions, wants, and pain points. By mapping the journey, you can identify areas where customers may get stuck, frustrated, or disengaged, and take action to address those issues, ultimately leading to more satisfaction, loyalty, revenue, and growth.
Customer (Education) Journey Map
Let's apply this to customer education:
Awareness: The customer becomes aware of your academy through your website, social media, search engine, ads, email, referrals, or other promotional tactics.

Interest: The customer shows interest in the academy and explores its offerings, such as courses, tutorials, quizzes, and the help center.

Enrollment: The customer enrolls in a course or program, creates an account and provides their personal information.


Onboarding: The customer's guided through the onboarding process, which may include a welcome email, a tour of the academy, and an introduction to the course materials from their customer success manager (CSM).

Learning & Engagement: The customer engages with the course content, completing lessons, quizzes, and assignments at their own pace.


Support & Community: The customer may require support from the academy team or other learners, such as asking questions or participating in discussion forums. They may also need to reach out to support via live chat, or quickly contact their CSM.

Continued learning: The customer continues to engage with the academy, exploring other courses or programs to speed on your evolving product.

Advocacy: The customer becomes an advocate for the academy, sharing their positive experiences with others and potentially referring new customers.
By mapping out the journey, you can gain a better understanding of the needs and expectations of your customers at each stage of their experience with your academy, allowing you to tailor your content, support, and communication to meet these needs and deliver the best experience.
A thorough understanding of the customer journey also helps you foster long-term relationships by consistently meeting their needs and exceeding their expectations. This can result in repeat business, referrals, and positive word-of-mouth, all of which contribute to the growth and success of your academy.
Bridging the Gap: How Product Management Principles Elevate Digital Academies

The best digital customer academies out there—think HubSpot, Salesforce, and Atlassian— they focus on delivering awesome experiences by really "getting" their customers.
Product management and customer education are intrinsically linked; they both aim to figure out what makes customers tick and how to make them happy.
So, when you're building your digital customer academy, borrow a few tricks from the product playbook, including personas, the Empathy Map Canvas, and customer journey mapping to create a stellar academy that engages your customers and keeps them coming back for more.