Research shows that 70% of all organizational change efforts fail. One of the primary drivers of this troubling statistic is that there's no leadership buy-in.
"We made it this far without it. Why do we need it now?" is a common rebuttal.
If you're dealing with any hesitation regarding Digital Customer Education, sit down with the leadership team and discuss these three things talking points:


1. Show Them That Digital Customer Education is a Win-win Situation
Historically, learning and leadership teams haven't always been on the same page, especially regarding the ROI and business impact of education.
Case and point: A study found that more than 60% of organizations offer training with no connection to strategic business objectives. Likewise, 49% of learning professionals said they struggle to get their managers to prioritize their teams.

Clearly, some learning teams struggle to prove the value of learning enough to merit buy-in from the top. This is why you must approach leadership with conviction and paint an irrefutable picture that learning can impact the bottom line.
10 Real-world Benefits of Digital Customer Education
Reduced churn

Better CSAT scores

Improved retention

Quicker sales

Increased product usage and adoption

Reduced support tickets

Scaling the Customer Success org
RELATED READING: How To: Design a Learner-first Program That Drives Business Outcomes
2. Let Leadership Know That They're More Than the Pen Signing the Dotted Line
When trying to gain buy-in, the last thing you want is for the team to think you're only looping them in to get budget approval.
Yes, the leadership team will ultimately support or disapprove of your plan, but that's not the only reason you need them. It's your goal to let them know that.
The trick?
Involve them well before you etch anything in stone, and make it clear that you need (and want) their partnership.
Ask the leadership team and use their responses to craft a program that aligns with them:
How do you measure success and company health?

Where do you see the company in the next 1, 3, 5 and 10 years?

Where do you think the best place is to apply Digital Customer Education?

What learning-related metrics are you interested in?

How do you want to be involved moving forward?
Think about it this way: Don't approach leadership with your plan's "final" version. Instead, present your plan and ask if they have any suggestions to improve it.
Then, keep them in the loop and seek their feedback. By doing this, you're making it clear that you want them to be a part of the process and not just the pen that signs the dotted line.
3. Focus on the "Why," Not the "What"
Focusing on the "why" instead of the "what" is more philosophical than the above points, but it still has the potential to sway the leadership team in your favor. You're going to do this with Simon Sinek's Golden Circle. If you're not familiar with it, see below.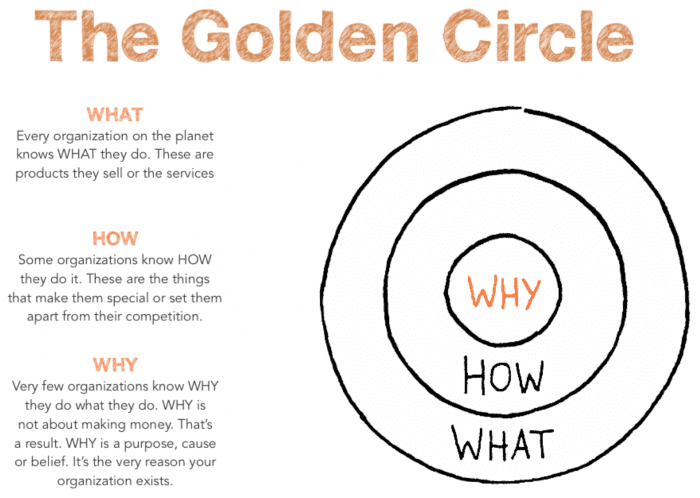 If you're wondering how this will help your leadership team buy into online education, hear me out.

The short answer: It puts your customers first.

The long (but not super long) answer: Today, your customers should come before profit—there's too much competition and too many choices to do anything less. Said another way, if you don't make it clear that they're at the heart of everything you do, they could find an alternative that puts them first.
By addressing the Golden Circle, you're signaling that Digital Customer Education will keep people in control, giving them the knowledge and resources they need to succeed with your product. The same ones that'll keep them happy and keep them around. That should be music to any leadership team's ears.
The Closing Act: Show Them How Easy

it is with an LMS
There's a misconception that starting anything new (and building it up) costs tons of time and money. This holds true with Digital Customer Education.
From the leadership team's perspective, they're listening to you and thinking, "who's going to lead this?", "how much time is it going to take?" and "won't it be expensive?" are all valid questions. So expect them, but have this response in your back pocket: "We can use an LMS."
What Can an LMS Do?
Create: Build content, courses and learning paths quickly and easily.
Manage: Centralize all learning resources and data in one location.
Scale: Grow the

online education

program as the company onboards new customers without sacrificing performance or the learning experience.
Ready to see how an LMS can enhance your

online education

program? Reach out and a Norhpassian will be in touch.