For most fast-growing companies, an exploding headcount is a cause for celebration. It's a sign of achievement and momentum. Growth is good. But operationalizing a workforce at a breakneck scale and pace is no easy task.
It's a challenge you may be well acquainted with. Your company is growing faster every day, and you're tasked with recruiting, hiring, and onboarding new employees or service providers at an ever-increasing velocity. What's more, you must ensure that every worker is equipped with the resources they need to be productive and to positively represent your brand.
Sound familiar?
An effective onboarding program is important for any company, but it's especially critical for those that need to grow quickly while maintaining consistent performance and service quality. To help steer you in the right direction as you build out your own program, we collected some of the most eye-opening onboarding statistics we could find to create this infographic series:
Graphic 1: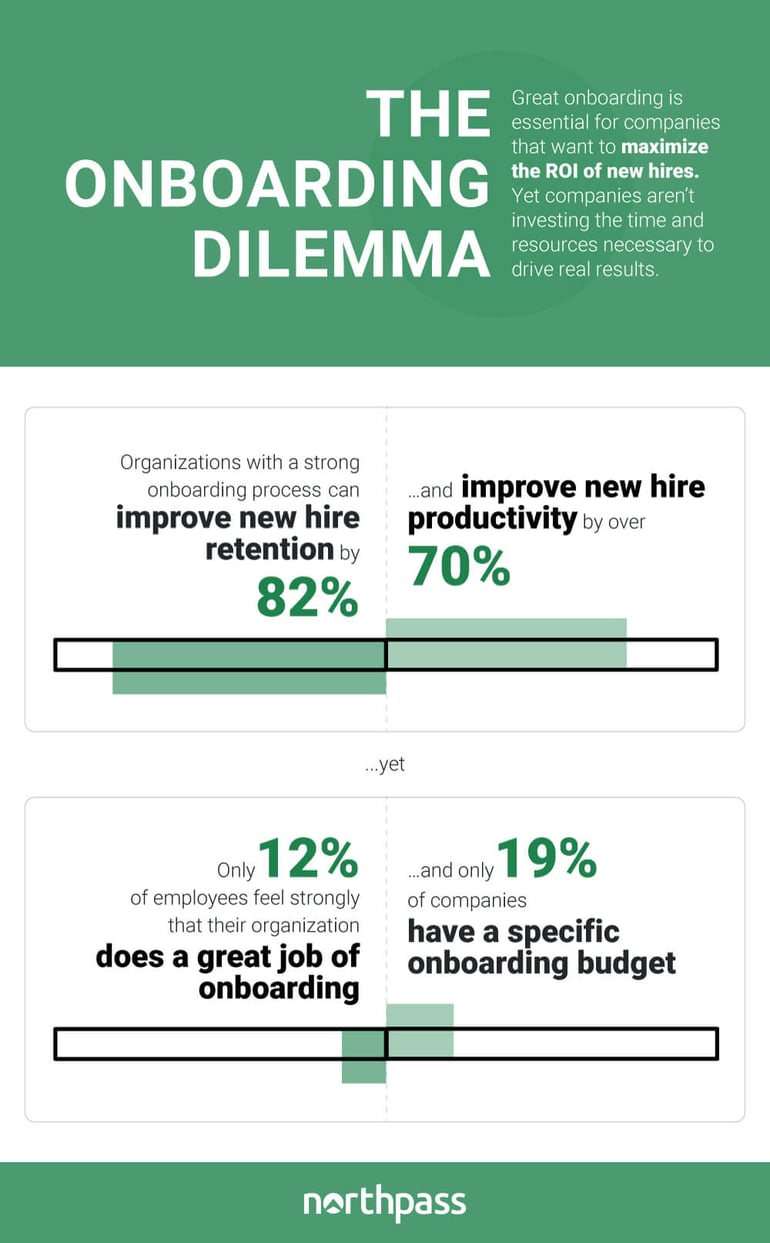 Graphic 2:

Our Take:
Onboarding matters in a major way.
A well-designed program can accelerate growth rather than hamper it. A good program also ensures that every new member of your workforce is aligned with your company's values, mission, and brand standards.
Current onboarding statistics show that an individual's performance and satisfaction directly correlate with the quality of their onboarding experience. Yet our research also reveals that, despite its impact, onboarding is undervalued and underfunded at most organizations today.
...🤔
Graphic 3:

Our Take:
Without the right tools in place, establishing an effective program can take a lot of time and effort that would otherwise be spent on additional growth initiatives.
That's why it's important to choose the right technology providers. Northpass is an LMS that's perfectly tailored for companies that need to onboard large quantities of workers at scale. We also feature key integration partners, such as Fountain, which helps accelerate and automate the hiring process. Together, these tools allow you to automate accelerate the growth and development of your workforce.
With the right technology mix in place, you can easily develop a high-impact hiring and onboarding program that affordably scales right along with you.
The best part is, learning technology has actually been proven to improve learning outcomes. So it's good for business and it's good for learners. That's a win-win.
Graphic 4:

Graphic 5:

Our Take:
Almost 9/10 companies have a formal onboarding program, but not everybody does it well.
Creating an effective onboarding program can be difficult without the proper resources. Those that get it right will reap the rewards. But for the 1/3 of companies with no onboarding budget or the 55% that fail to measure program effectiveness, things are not likely to go smoothly.
Ready to take your onboarding to the next level? Get in touch with a Northpass representative today to learn how we can help you build a better workforce and hit your growth goals.
Sources: