Here's a question before we get into the real questions:
Which team plays the biggest role in keeping your customers happy and retaining them?
You guessed it — the Customer Success (CS) team.
While every team plays some role in the customer journey, the CS team is the glue that keeps your customers stuck to you and your product.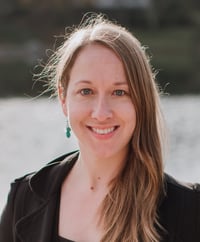 I sat down with Paula Naba, Director of Customer Success at Northpass, to give you a more in-depth understanding of the CS team at Northpass and why (and how) they help our customers be successful, no matter who they're training.
Q: What does the Customer Success Team at Northpass do?
The CS team at Northpass ensures our customers create successful academies and get value from our platform (learning management system).
Each customer has their vision of an academy and the goals they want to achieve with it, so a one-size-fits-all approach won't work.
Instead, our team works hand-in-hand to bring our customers' end vision to life. From implementation to program consultation to technical support, we're in lockstep during a customer's journey to ensure they get exactly what they want and are on track to reach their unique goals.
Q: Why's a CS team important?
A CS team is very important for customers who put education first. There can be a lot of moving parts, and we ensure they're set up for success from day one.
We help customers with program planning, curriculum mapping, tech stack integrations, branded design, optimized user experience and more.
We also work as partners to help craft, develop and implement their vision. Even more, once launched, the academies continue to evolve and our team ensures growth and optimization throughout a customer's time with us.
Q: Does the CS team only help with customer onboarding?
There's no denying the onboarding process is a huge part of what our CS team does, but they do a lot more, too.
This starts by guiding them through the initial build and LMS implementation but continues as we look for ways to improve their academies so that their end-users receive a top-notch experience as our product releases new functionality.
For example, when we released Northpass for HubSpot, we worked closely with interested customers to help them understand the new offering and how they could make the most of it.
Beyond that, we also assist with analyzing user feedback to develop ways to improve the academy (and methods to mitigate any risks associated with the end-user experience).
Overall, our goal is to be true partners to our customers and provide the most value possible so they can fully take advantage of Northpass.
Q: Does every customer get to work with a CSM?
We evaluate every customer and determine if their program requires a CSM relationship.
If your program is less complex and includes a smaller audience, we've found that these teams can easily get everything up and running by themselves.
That said, these customers are far from alone on their journey. Our technical support team is always there to assist and is also familiar with supporting various training programs for employees, customers and partners.
Q: What makes Northpass' CS team different?
Many things make our CS team different, but the one that sticks out is our versatility.
We've done this many times before.
We have a varied customer base and have assisted across industries and use cases, which means our team is experienced and primed to help no matter the use case.
We're prepared to wear many hats in an advisory capacity and truly cater our services to specific customer needs.
We make sure our customers don't feel alone and feel confident turning to us to push their training programs even further.
We are always growing and evolving on our end to ensure we are up to speed with industry best practices to make our customers successful.
Q: What's the biggest benefit of working with a CSM? What about the greatest challenge?
The greatest benefit of working with a customer success manager or CSM is that our customers have a designated partner at Northpass ready to walk in unison toward their unique goal.
We are their advocate, consultant, troubleshooter, program confidant and strategist to ensure the customer's training program is truly successful.
We're in lockstep, providing methods for success and also sharing feedback for growth and improvements with our product and engineering teams.
On the contrary, the biggest challenge is this: Sometimes our customers have amazing ideas; however, the requested feature isn't currently available.
Fortunately, we have an amazing product team, so whenever there's a match between a customer request and what they're working on, we always loop them in. Not only does this show the customer that we take their feedback and ideas seriously, but it powers our product team with real-world ammunition they can use to take Northpass to the next level.
Q: If you could give someone one piece of advice on maximizing their relationship with their CSM, what would it be?
When working with a CSM, the most important step you can take is prioritizing two-way communication and feedback.
Remember: Online learning is a long-term play and you won't reach the perfect state overnight. However, by constantly communicating and helping the CSM understand what you're looking for — and vice-versa — you can take as straight a path from A to B as quickly as possible.