Integrations are nothing new to learning management systems (LMS), but we're seeing a shift; one that brings key company departments, who've historically worked in siloes, closer together. Enter the CRM-LMS integration.
Now, Marketing, Sales and Service teams using Salesforce, HubSpot, etc., can walk in unison with learning teams using an LMS, like Northpass. Together, they can link their efforts and create better customer (and prospect) experiences and business outcomes.
1.

More Brand & Product Awareness

There can be a misconception that customer education is only a bottom-of-the-funnel play fir for post-onboarding goals like product adoption and usage. Don't get me wrong. Customer education does this with flying colors, but that's just the tip of the iceberg. Integrating your CRM and LMS can also boost brand and product awareness.

Think about The HubSpot Academy. For over a decade, HubSpot's academy has been the go-to resource for Marketing, Sales and Service pros who want to learn about inbound marketing, sales and customer service/support training. HubSpot does this with videos, infographics, webinars, and more — all traditionally top-of-the-funnel tactics.

Here's the kicker: All of this brand awareness trickles down to tangible business outcomes. When these people are in the market for marketing or sales tools, many of them will immediately think about HubSpot, helping it consistently fill its pipeline with people who fall directly into its buyer persona.
---
Download the eBook: The LMS+CRM Relationship
---
2.

Quicker Sales (and More of Them)

Time is of the essence, which is why so many companies measure sales velocity. Historically, the most common ways to improve this is to increase the number of sales, the size of the deals, improve the win rate or shorten the sales cycle. These will remain effective, but customer education can also help.

By integrating your CRM and LMS, you can use learning activity as a beacon that guides your outreach strategy.

Here's what I mean:
You collect someone's (we'll call him John) contact information in your CRM.
John completes a course called "Facebook Advertising 101."
This activity is automatically visible in your CRM.
You can personalize your outreach strategy based on this information.
Here's what that could (and should) look like: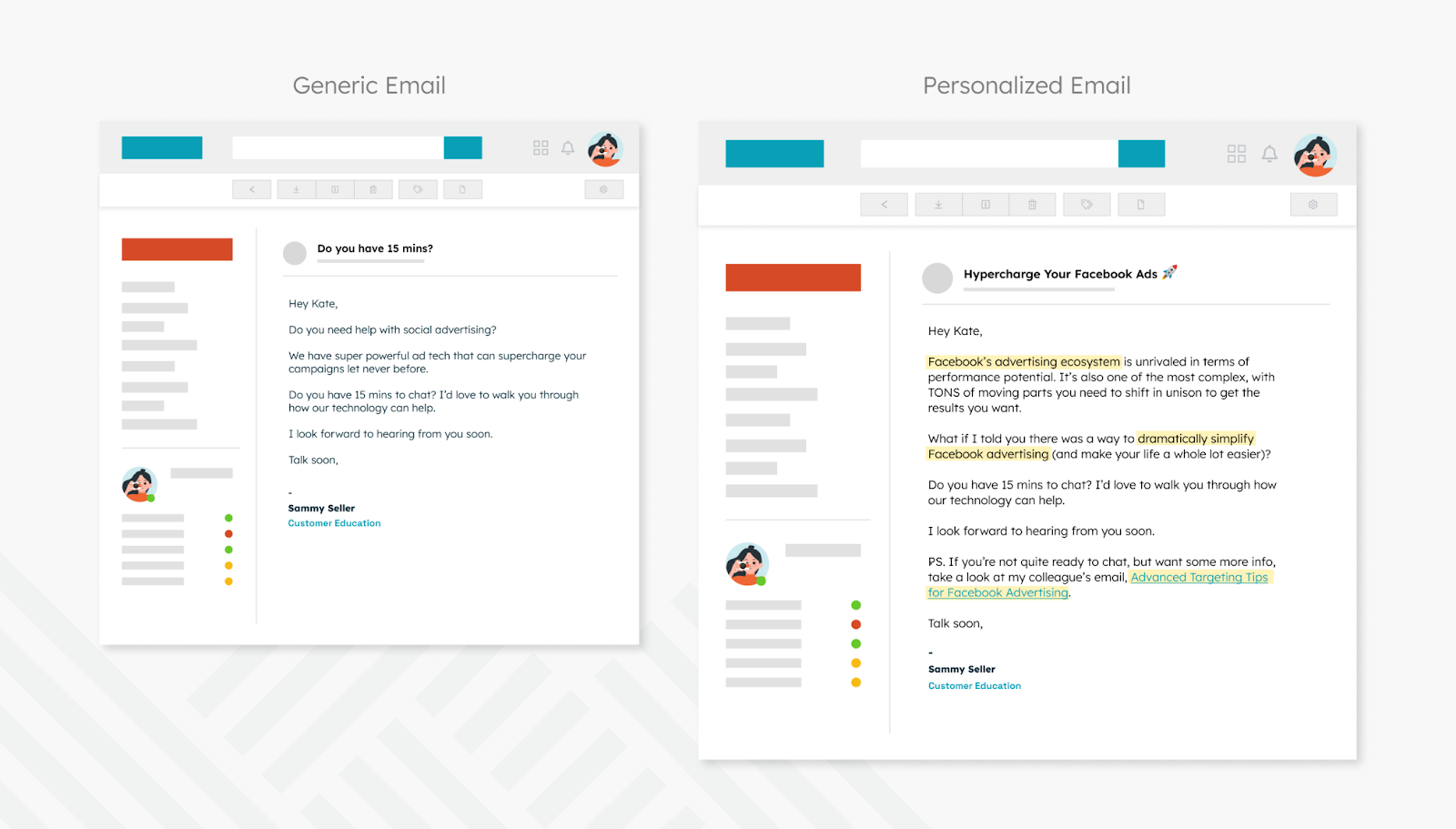 Which email is John more likely to respond to? The more personalized one. While the first email does have elements of personalization, you only have basic information to work with (e.g., his name, company name, etc.) On the flip side, by knowing exactly where his pain points are, you can inject an entirely new layer of personalization.
3.

Increased Value for Customers

You can roll out the red carpet during the sales pitch and give people a great deal, but if you can't bring the vision to life and demonstrate real results, you're going backward. This is why onboarding and the learning materials you use during it, are so important.

The problem is that if you have more than a handful of customers, this process can drown your support teams in mundane and repetitive tasks. For example, sending individual emails to each customer with links for the first course they're expected to take. This may be manageable at first, but as your academy grows, your support team will quickly find itself spending entire days doing this. When this happens, they'll have no time to have meaningful conversations with customers about how they can make the most of your product.

A CRM-LMS integration lets you automatically send learning content to customers exactly when they need them. For example, once John (same example from above) signs the dotted line, you can instantly send him the course related to Facebook advertising. John gets immediate value and your Support team has the time to follow up with him.
Northpass for HubSpot: Taking CRM-LMS Integrations to the Next Level
Northpass for HubSpot gives HubSpot customers the ability to build advanced customer academies powered by CRM and LMS data.
Want to learn more? Check out Northpass for HubSpot's App Marketplace listing.
Want to see it in action? Book a demo today.