What if scaling your business was simply a matter of prioritizing learning? Would you?
According to Gartner, 70% of workers say they do not have the mastery of the skills necessary to do their job today. And, only 20% of workers say they have the skills needed for their current and future roles.
The degree to which learning initiatives can positively impact business outcomes, such as growth, varies significantly depending on the nature of the business in question. In this post, we'll focus on the subset of businesses that cannot afford to overlook learning as the most important and strategic lever for growth.
If one or both of the following criteria apply, this post is for you:
You run or manage a growing digital platform, marketplace or tech-enabled service business.

Your success as a business and brand depends on the performance of a growing number of frontline workers or partners.
On the one hand, your workforce needs to learn quickly and on the fly if your company is to survive and succeed. On the other, your customers are more likely to churn if they're ill-equipped to utilize your product. Traditional Learning & Development (L&D) frameworks, strategies and platforms fall short in both scenarios. That's why we built Northpass and developed the Learning Ops framework.
So, What is Learning Ops, Exactly?
Learning doesn't tend to get a lot of shine in businesses today, which often results in it being relegated to a Tier-2 initiative. We've noticed, however, that once a learning initiative aligns itself with the primary goals and Key Performance Indicators (KPIs) of one or more business units, this changes.
Learning Ops beckons a cultural shift to align training initiatives with the performance goals of the business. This new operations model is supported by technology that delivers connected and personalized learning experiences to workforces, as well as customers and partners at scale.
Learning Ops can help you solve the following challenges:
Customer satisfaction (CSAT) is dropping due to under performance of a frontline workforce.

Churn is up for the very same reason or because customers don't know how to use your product.

Workforce performance is unreliable due to inconsistencies in onboarding or training.

Current learning solutions aren't delivering engaging experiences, and cannot be customized or integrated with your existing technology stack.
It Starts with the Flywheel
As a continual process, Learning Ops leverages what you're already doing and levels that up in an iterative loop. Below, you'll find a brief overview of the three-step process behind the Learning Ops methodology.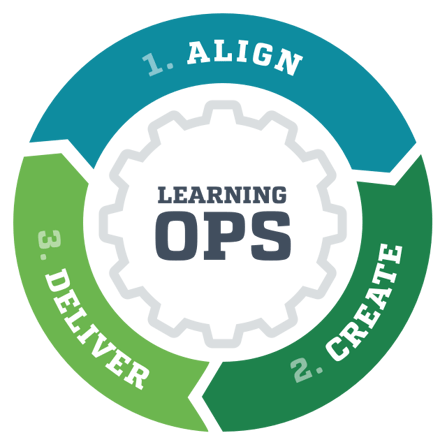 Step 1: Align Teams and Outcomes, and Prioritize for Impact
It's crucial to gain consensus on which teams will employ learning programs and ensure that leadership embraces these initiatives. To do this, start by speaking with business leaders about their respective challenges and KPIs, then partner with them to identify new opportunities to drive impact with learning.
What's the desired impact your learning program will make towards the company's performance goals? The impact should be measurable if you intend to prove the ROI of your efforts. Here are some common examples:
Reduce onboarding time

Increase productivity

Ensure compliance

Improve conversion rates

Boost retention

Increase revenue

Increase profits
Step 2: Create Engaging Content that Drives Better Performance
This step involves establishing learning objectives, mapping the learner journey (Where? When? How?) and creating content that is intentional, structured, well designed and personalized.
An important thing to note here is that Learning Ops empowers a wide range of professionals to easily create content and programs without any previous instructional design experience.
Related reading: 5 Instructional Design Best Practices
Step 3: Deliver a Frictionless and Human Learning Experience
Here, the focus is on integrating your learning content and program with any existing web properties such as your website, mobile app, help desk or CRM. This enables you to meet your learners where they are by automatically delivering valuable content right within the interfaces and touch points they regularly access.
Related reading: The Mobile Learning Revolution: Why L&D Programs Must Adapt to Survive
From there, it's all about supporting your learners, collecting feedback, measuring your training's effectiveness and optimizing your content. This brings us back to Step 1, where we align once more. The cycle continues in this fashion for the duration of your program.
Why Learning Ops? Why Now?
The explosion of mobile technology is largely responsible for shifts in how we do business and workforce dynamics, overall. These shifts have ushered in a myriad of technological innovations while simultaneously proving traditional professional development and corporate training methodologies obsolete.
This has left many organizations unsure about how to grow and train their workforces or platform partners. Yet, they know they have to. According to Gallup: "Millennials rank opportunities to learn and grow in a job above all other considerations."
The modern workforce requires modern solutions to age-old training problems. Learning Ops is the solution and ensures:
Learning that's natural

Learning-powered programs that succeed

A consistent brand experience

Improved CX

Accelerated growth
Additionally, a learning program built using the Learning Ops methodology gives your business a competitive advantage. Just ask hyper-growth companies like Compass, Lyft, Shopify and Uber how critical Learning Ops was to their ability to scale learning across their businesses.
Thanks to Learning Ops and its supporting technology, modern teams have been able to achieve some incredible outcomes. Here are just a few:
Cabify reduced driver activation time by 95%.

Shopify increased their monthly customer academy usage by 491%.

Puls scaled their provider network by 11x.

BabyQuip spends 75% less time on reactive support.

Qvidian earned a 2x year over year increase in revenue for Qvidian University.
We've only just begun to scratch the Learning Ops surface in this post but we invite you to take a deeper dive with our new eBook: