The prolific explosion of mobile technology is driving fundamental shifts in how we live, work, and learn. Innovative business models and changing workforce dynamics are quickly making traditional corporate training and professional development methodologies obsolete.
The sheer pace and breadth of these changes have left many organizations unsure about how to effectively grow and train their workforce. The days of company-wide conferences, annual compliance seminars, and manual onboarding programs are fading fast. So too are the companies that refuse to adapt.
Yet businesses would do well to remember that mobile technology has opened far more doors than it has closed. Forward-thinking L&D managers are finding new solutions to keep their organizations relevant, inspire their workforce, and retain top talent.
The most successful organizations in the economy of tomorrow will be the ones that implement a mobile learning solution today.
How Did We Get Here?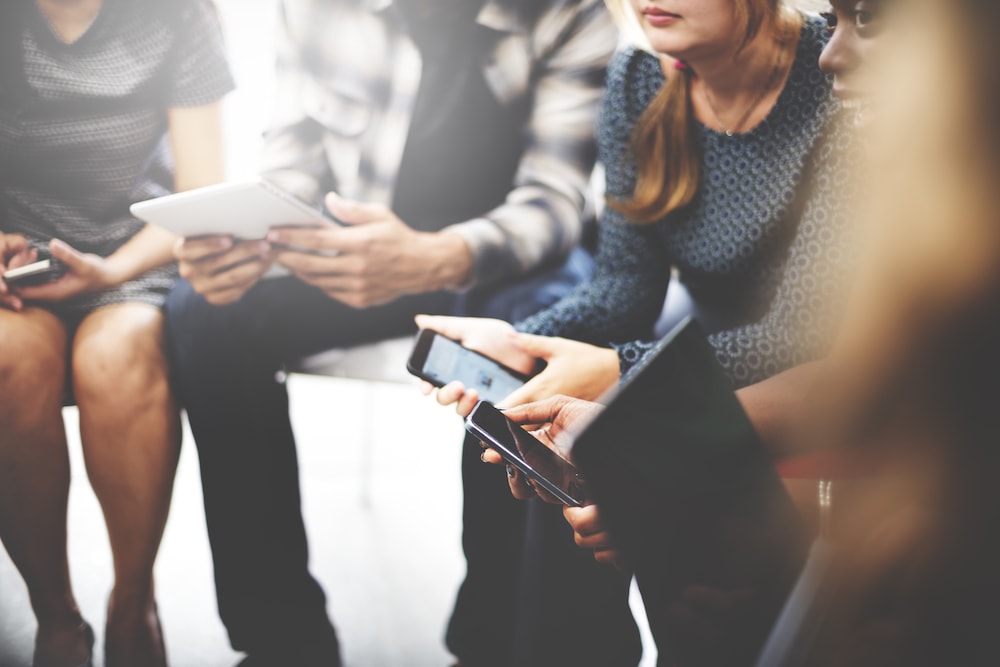 It's hard to overstate the impact mobile phones have had on the world. The rapid and widespread adoption of mobile technology has contributed to monumental transformations in business and culture around the globe.
In fact, mobile tech is unlocking entirely new business models. The smartphone era has given rise to the "gig economy" and the "on-demand" model that's causing massive disruption in nearly every industry. Meanwhile, more and more people in the modern workforce are choosing freelance or remote employment opportunities, presenting new challenges to businesses trying to onboard and train them.
But before considering where to go from here, it's important to understand how we got to this point in the first place.
The Mobile Takeover
Mobile technology is the driving factor behind many of the changes affecting our culture and economy. And at this point, pretty much everybody has access to a mobile phone: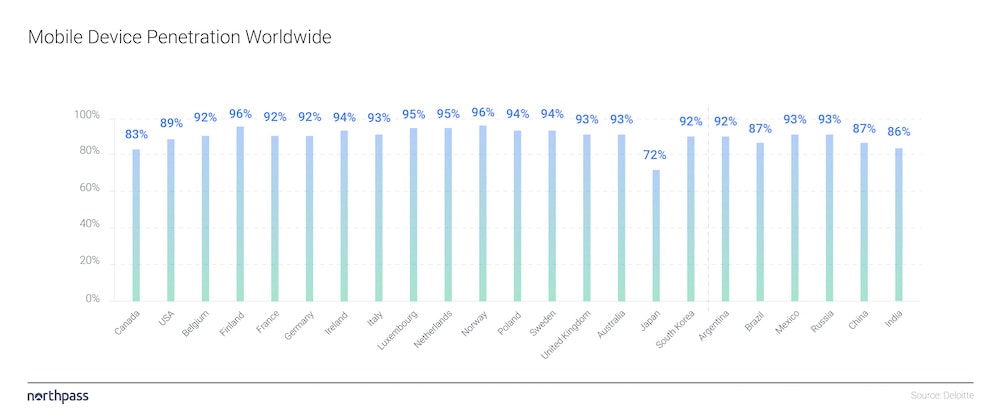 It's safe to assume that everyone - your customers, your employees, your 2-year-old nephew - has a mobile phone. It would be a strategic mistake to operate under any other assumption.
Furthermore, mobile phone usage has skyrocketed along with penetration. Millennials now spend nearly 4 hours per day on their phones, and they're not alone. Over the past couple of years, mobile website traffic has actually surpassed desktop traffic worldwide: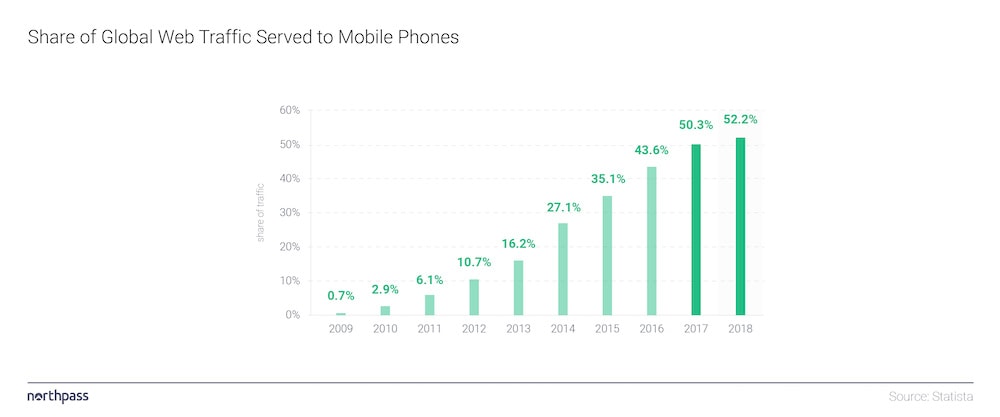 Still, perhaps more important than how many smartphones are out there or how often people use them is what this technology allows us to do:
"Mobile technology isn't interesting because it's a new form factor. It's interesting because it's always with the user and because it's equipped with sensors."
Pete Mortensen really hits the nail on the head in his article for Fast Company. Mobile phones are more or less attached to their users, and they're hyper-aware of their environment. No other device allows for the collection and utilization of that kind of personal and contextual data. Mobile devices are not just a new medium for the delivery of content; they've fundamentally augmented the kind of content we can create.
The On-Demand Boom
Empowered by mobile technology, the "on-demand" sector has seen massive growth in recent years. Think Airbnb, Lyft, or Hello Alfred. This model is cropping up in nearly every industry, and it's causing massive disruption.
An article from The One Brief identifies three characteristics shared by almost every on-demand company. They all feature some version of:
1. Independent workers providing a specific service
2. Consumers that require the service immediately
3. An online platform connecting the two
The main takeaway here is #1. The vast majority of people working for on-demand companies are independent contractors (or 1099 workers); they set their own hours, there's often high turnover, they're always on-the-go, and nearly all are customer-facing.
While the on-demand model can be excellent for business, it also poses unique challenges for employers. They need to train a workforce that is distributed, flexible, and scalable, but also capable of providing excellent customer experience without any supervision. And due to the high-growth nature of these businesses, many must do so with extreme haste. They cannot afford lengthy onboarding and training cycles, but neither can they afford to forgo such processes entirely.
The Modern Workforce
Many businesses not built around the on-demand model are also turning to freelance staff due to changing priorities in the modern workforce. Independent workers often enjoy the freedom and flexibility inherent to the arrangement, and many remain freelancers by choice rather than necessity. The freelance workforce is growing fast. Many organizations will be forced to mold their business models to fit this paradigm shift or risk losing out to those that do.
Modern technology has also enabled a more distributed workforce. The emergence of telecommuting - which has grown by 115% in the past decade - means companies are no longer limited to the talent pool within their city or state. Many are sourcing talent from across the country and across the globe. What's more, the companies that master telecommuting can turn it into a competitive advantage in order to attract employees. Similar to freelancers, remote workers are drawn to the freedom and independence that telecommuting allows.
As is probably apparent by now, the modern workforce thinks differently. They care about different things than previous generations, which means employers will need to find new ways to attract and retain top talent. For most millennials (who comprise the majority of the workforce), that means training and development. According to Gallup:
"Millennials rank opportunities to learn and grow in a job above all other considerations."
So, despite the intrinsic challenges of training a workforce that is increasingly drawn to freelance and remote work, employers must find a way.
Is Mobile Learning the Answer?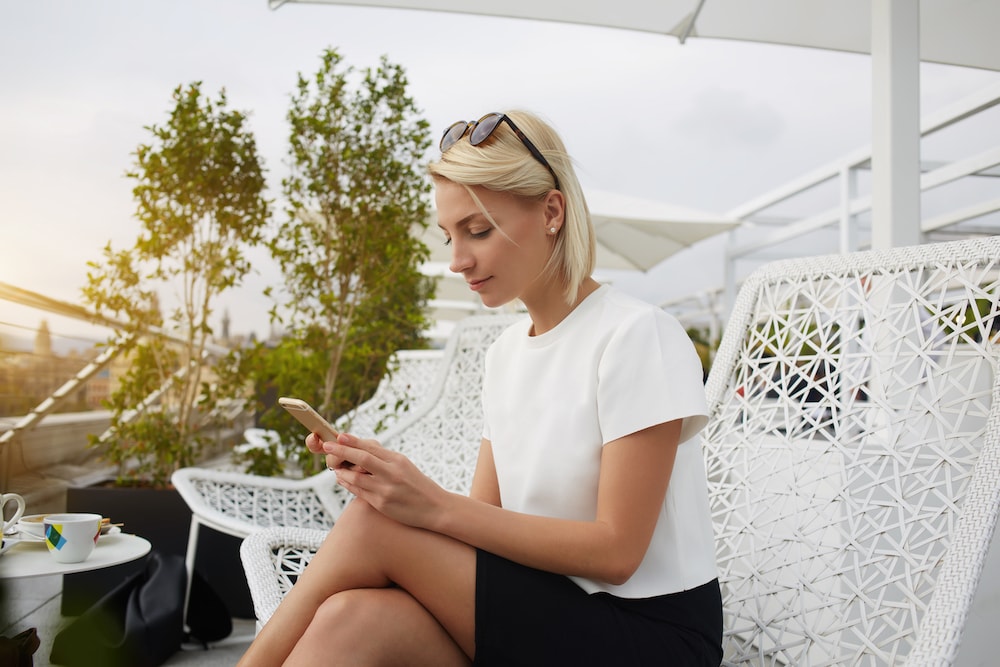 Mobile learning - or "mLearning" - has the potential to solve many of the problems brought on by the broad societal changes outlined above. Any company with a vested interest in learning & development should consider how mobile learning might play a part in their training initiatives.
What is Mobile Learning?
Mobile learning is a type of online learning enabled by mobile technology and intended for a mobile audience. Terry Heick's says it best in his article for TeachThought:
"[Mobile learning is] a kind of learning characterized by the need and ability of the learner to be mobile."
Let's unpack that definition a bit by identifying the three things that make mLearning possible.
1. Mobile Learning Scenario:
The "need" for a learner to be mobile creates a mobile learning scenario, and the presence or absence of such a need can serve as an important indicator for any L&D manager considering a mobile learning solution. That said, the word "need" might be a bit too restrictive. Rather, consider: would mobility be an advantage for the learner in a particular scenario?
2. Mobile Learning Technology:
The "ability" for a learner to be mobile has more to do with the state of modern technology than anything else. Smartphones and tablets provide the necessary infrastructure to support mobile learning platforms, such as Northpass' LMS, which makes it incredibly easy to create, deliver, and measure an mLearning program.
3. Mobile Learning Content:
The need and ability for mobile learning simply create an opportunity; it's up to businesses and training managers to capitalize. With a scenario in mind and the technology in place, organizations need only produce the content. When all three come together, the magic happens.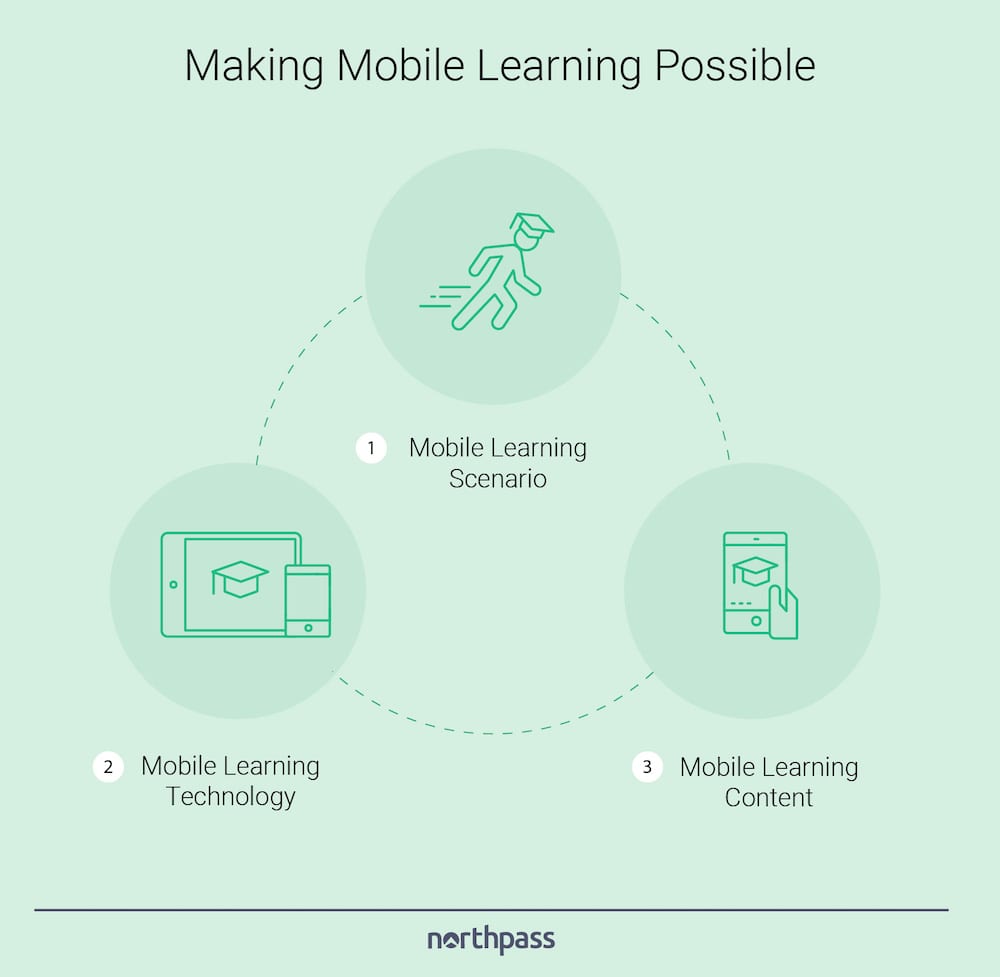 Why Mobile Learning Makes Sense
As stated earlier, mobile technology has opened far more doors than it has closed. For L&D managers looking for answers to the many questions brought about by changes in technology, business, and the workforce, they'll be happy to learn that mobile learning sits neatly at the intersection of all three.
Mobile learning leverages technology.
Even the most basic mLearning programs can deliver multimedia educational content to learners wherever and whenever they need it. Advanced programs can create more personalized and contextualized experiences based on the data collected by mobile devices.
Mobile learning is better for business.
Mobile programs are perfect for companies operating in the on-demand space, or for any organization working with remote or freelance employees. Like all online learning, these programs can scale effortlessly and are extremely cost effective when compared with traditional training methods. And, since everything is happening on a digital platform, it's all measurable.
Mobile learning is tailor-made for modern workers.
These programs are greatly appreciated by freelancers and remote employees who need to work from their own devices, and often on their own schedules. Younger employees looking for training and growth opportunities will be drawn in by a modern L&D offering.
Making mLearning Work
Launching a mobile learning program may seem daunting at first, especially to those who don't have any prior experience with an online learning program. Luckily, user-friendly mobile LMS platforms make it easy to create, deliver, and measure a mobile program, whether you're building it from the ground up or simply updating what you already have.

Create: The best LMS platforms make it incredibly easy to build courses right on the platform, no technical skills necessary. And there's no need to start from scratch when it comes to creating content, either. Use existing videos, blog posts, slideshows, documents, and any other materials on hand. Some platforms even provide off-the-shelf courses that can be delivered as they are or augmented to better fit your needs.


Deliver: Whether your learners are in the same building or across the globe, they can access an mLearning program on their own devices and on their own schedule. They don't need to download any apps or create any accounts. Platforms like Northpass are fully white-labeled and can even integrate with your existing technology stack, providing users with a seamless and fully branded learning experience.


Measure: Many platforms offer robust analytics, making it easy to gauge the effectiveness of your program. Stay informed about how quickly learners are progressing through courses and how well they're performing on assessments. Then look internally to determine how your program is impacting your broader business objectives to calculate the program's ROI.


Mobile Learning Done Right
As you consider how mobile learning might fit into your own business, it may be helpful to look at some examples of companies that are already getting it right. How might you be able to emulate their success at your organization, or how you can leverage similar strategies to accomplish your own objectives?
Merrill Lynch employed mobile learning to speed up compliance training.
They loved their mobile program so much, they even put together a case study. Results showed that employees spent between 45% - 80% less time in training, averaged 12% higher completion rates, and displayed "no loss of comprehension."
Walmart leveraged microlearning to reduce safety incidents.
They reportedly achieved a 54% decrease in recordable safety incidents, a 15% increase in employee knowledge about safety topics, and saw a voluntary participation rate of 91%.
Babierge used mLearning to reduce onboarding time for on-demand workers. Average time spent completing their two-step application process dropped from 2 weeks to 3 days, costing them 75% less time on support.
Home Depot developed performance support tools to augment customer service.
Store associates are given iPads preloaded with FAQs, competitor information, and other relevant content to help them stay informed and provide a better customer experience, whether it's their first week on the job or their last week before retirement.
A Modern, Mobile Learning Platform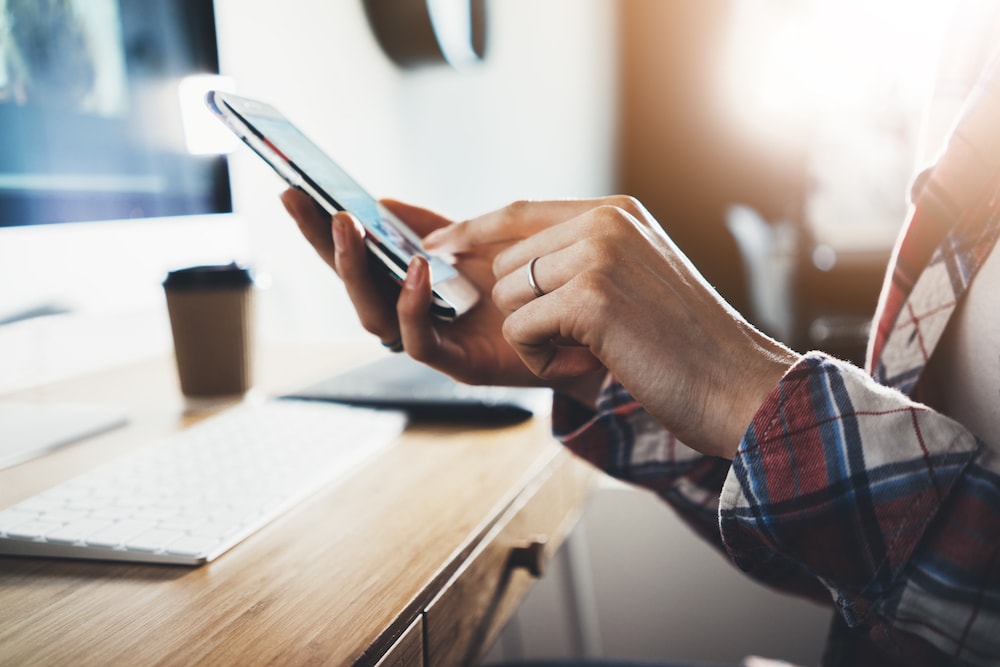 No matter the size of your company or the space you operate in, changes in technology, the economy, and the modern workforce will affect how you do business. It's time to adapt. It's time to find a modern, mobile LMS.
Northpass is one of the most user-friendly, mobile-compatible learning management systems on the market. From our white-glove implementation service to our intuitive interface and exhaustive analytics capabilities, Northpass makes it easy to create, deliver, and measure a mobile learning program at your organization.
Book a demo today to learn how Northpass can help you make mobile learning a competitive advantage at your company.