It's that time of year, and everyone's scrambling to plan for next year.
We know how you feel.
In this seemingly ever-changing economic climate—one that'll likely shift even more in 2023—leadership teams are looking to cut costs by reducing resources and headcount.
Add new programs entirely? That's out of the question.
If you run a Customer Success org, you likely understand the value of training customers. You might even be yearning to launch a Digital Customer Education program.
Given everything that's going on in the economy right now, that may feel like wishful thinking.
Here's some good news. 👏
It's not—and with the right talking points, you can secure budget for Q1 and beyond.
Here are 3 points to bring up to leadership to share the value and secure that budget.
It Decreases the Overall Costs of Customer Success Programs
Companies spend a lot of time and money training customers. Their biggest mistake? Relying solely on Customer Success Managers (CSMs).
Founder & CEO of Northpss, Steve Cornwell, posted to LinkedIn (snippet below) that he often hears from Customer Success leaders that CSMs spend about 30% of their time training customers.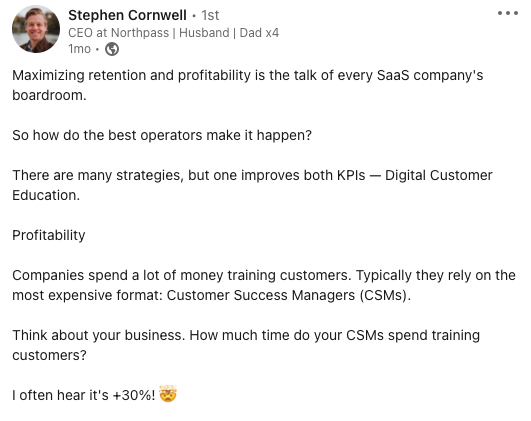 30%! 🤯
He also added this nice bit of math to drive the point home:
CSM compensation in the USA averages $90k.

If you have 20 CSMs, and each spends 30% of their time working hand-in-hand with customers, your training expense is at least $540k annually.
Implementing a Digital Customer Education program with a learning management system (LMS) can significantly reduce the time your CSMs spend working 1:1 with your customers.
What does this mean?
You can do more with less.
Think about it: What's the solution to training a scaling customer base? Nine times out of 10, it's hiring more CSMs.
At $90k/year, that'll add up fast.
Allow CSMs Time to be Strategic
While saving cold hard cash is a great motivator, perhaps Digital Customer Education's most significant benefit to your company is what your CSMs can do with their newfound time:
Give them more time to build relationships and drive customer outcomes.
With your CSMs no longer consumed with manual training and 1:1 interactions that could be accomplished with an online course, they can forge more meaningful relationships on the individual level and get super strategic with your customer accounts. You know, what you actually pay your CSMs to do.
For example, they'll have the time to:
Think through challenges unique to each customer: With their newfound "free" time, CSMs can work with your product and implementation teams on behalf of the customer to create solutions to customer challenges.
Focus on the hard problems: With less time spent on run-of-the-mill training, CSMs can devote their time to solving complex problems—the very ones your customers use your product to solve—while keeping the customer in good spirits and highly motivated to work through issues rather than stop using the product and churn.
Create strong relationships with customers: A little bit of love can go a long way. Reaching out to have conversations with customers big and small can make a huge difference, especially without the pressure of upselling or a crisis. Relationships have always been—and will continue to be—the foundation for all successful businesses. Don't let anyone tell you otherwise.
At the end of the day, this newfound time boils down to one thing: Better outcomes for your customers, which are essential to retaining customers with the greatest lifetime value (CLTV).
Increase Net Revenue Retention
Now that your CMSs are more strategic, let's discuss those dollars again.
Net Revenue Retention (NRR) is the metric many SaaS companies use to indicate business growth potential from the current customer base.
A quick reminder for those not in finance and because SaaS businesses love their acronyms:
NRR refers to recurring revenue generated from existing customers. It also accounts for changes in customer status, such as upgrades, downgrades, retention rates, and churn.
Using the math listed in point one, implementing a Digital Customer Education program effectively gives your team six (6!) new CSMs who have more time to drive your company's bottom line:
Discover new use cases
Garner executive support
Drive higher product adoption
Upsell new plans
…all leading to less churn, more expansion, and higher NRR.
You're already paying to train your customers. So do it digitally, reduce expenses, free your talented CSMs to do their jobs, and increase NRR.
But wait, there's more…
Start with those three talking points when approaching your leadership team about launching a customer education program in Q1. When times are tough, highlighting how you'll save them money will make their ears perk up.
That said, the benefits of Digital Customer Education don't end there. So, if your leadership team needs a bit more swaying, highlight these (they all tie back to more money, too):
Decrease Time to Value (TTV):

There's nothing more important than getting your customers up and running as quickly as possible. Full stop. They bought your product for a reason, so show them they made a wise investment on day 1.

Digital Customer Education does this in a few ways: First, a customer academy's always-on nature means that the resources your customers need—think quick start guides, FAQs, etc.—are just a click away. No waiting around for their CSM to talk or for a support rep to respond to the chat. Just answers when they need them.

A program powered by an LMS

also allows your CSMs to automate tasks that may otherwise slow the onboarding process. For example, sending an email with the link to the first course or notifying them they have outstanding items to complete before your next meeting.

Comprehensive Onboarding:

For better or worse, the B2B world is complex. Generally, customers will need a deep dive into your product to realize its full value.

Asking a CSM to provide that on their own is a time-consuming and costly recipe. (Remember: The average CSM makes $90k/year.) It's also a logistical nightmare, especially for CSMs onboarding customers with different needs and use cases.

A Digital Customer Education program centralizes the content needed for onboarding and streamlines its deliverability to ensure everyone gets the resources they need to be successful, regardless of the complexity.

Connect Learning with Your Tech Stack:

As digital learning continues to gain a seat in the board room (hopefully in Q1), expectations will grow. Many of those expectations will involve getting closer to other teams, including Sales, Services, Customer Success, and Marketing.

Over time, your program will collect valuable learning data

on your customers—data other teams can use to do

their

jobs better. For example, if a CSM sees one of their accounts isn't using a particular feature, they can reach out with a related course.

At the same time, a public-facing academy—think the HubSpot Academy—can generate valuable thought leadership and generate leads for your sellers.

Smoother Product Rollouts:

The world moves quickly, and your customers' expectations change. As they do, your product evolves, and updates roll out. When they do, ongoing education must follow, or adoption won't be anywhere near where it needs to be.

Working a Digital Customer Education program into your Q1 budget will ensure that your customers continue to have the ongoing resources and support they need to realize the value of your product today, tomorrow, and years in the future.
Bring Customer Education to Your CS Org
It's no longer a secret that proper education is a crucial driver for Customer Success teams. Developing stronger, more loyal customers in this economy is essential for any business to succeed in the fight against churn.
Digital Customer Education is necessary to up the ante of your CS org. Want to learn more about how to get started?