Let's start from the top: What's a cloud LMS?
A cloud LMS, cloud-based LMS or SaaS LMS are all the same and terms used to describe a type of learning technology that's hosted by the vendor and made available to customers, workforces and partners without them needing to install any software.
Said another way, someone can access your academy anywhere with an Internet connection, which is ideal for today's "on-the-move" society and remote workforce.
Let's take a closer look at cloud LMSs, why you want one powering your learning program ASAP, and 10 of the best ones available today.
The best cloud learning management systems available >>>
---
Bonus Content 🚀

Customer Education Request for Proposal (RFP) Template
7 Ways to Improve Your Customer Education Strategy in 2022
eBook: 3 Ways Online Education Can Improve Your Customer Experience
---
Benefits of a Cloud LMS: Why You'd Want One
The cloud LMS market is growing rapidly and for good reason. With remote work being the new normal, today's businesses need a scalable and readily accessible solution to get their teams and customers up to speed.
A cloud-based platform is accessible from any internet-connected device in any location, meaning that the people using it simply have to log into a web portal to access the content.
The example below shows how anyone can access The HubSpot Academy. While some of HubSpot's may live behind a gate (i.e., you have to be a customer), much of it is readily available to people without them having to download anything.
A quick search for The HubSpot Academy, a click or two, and you're in.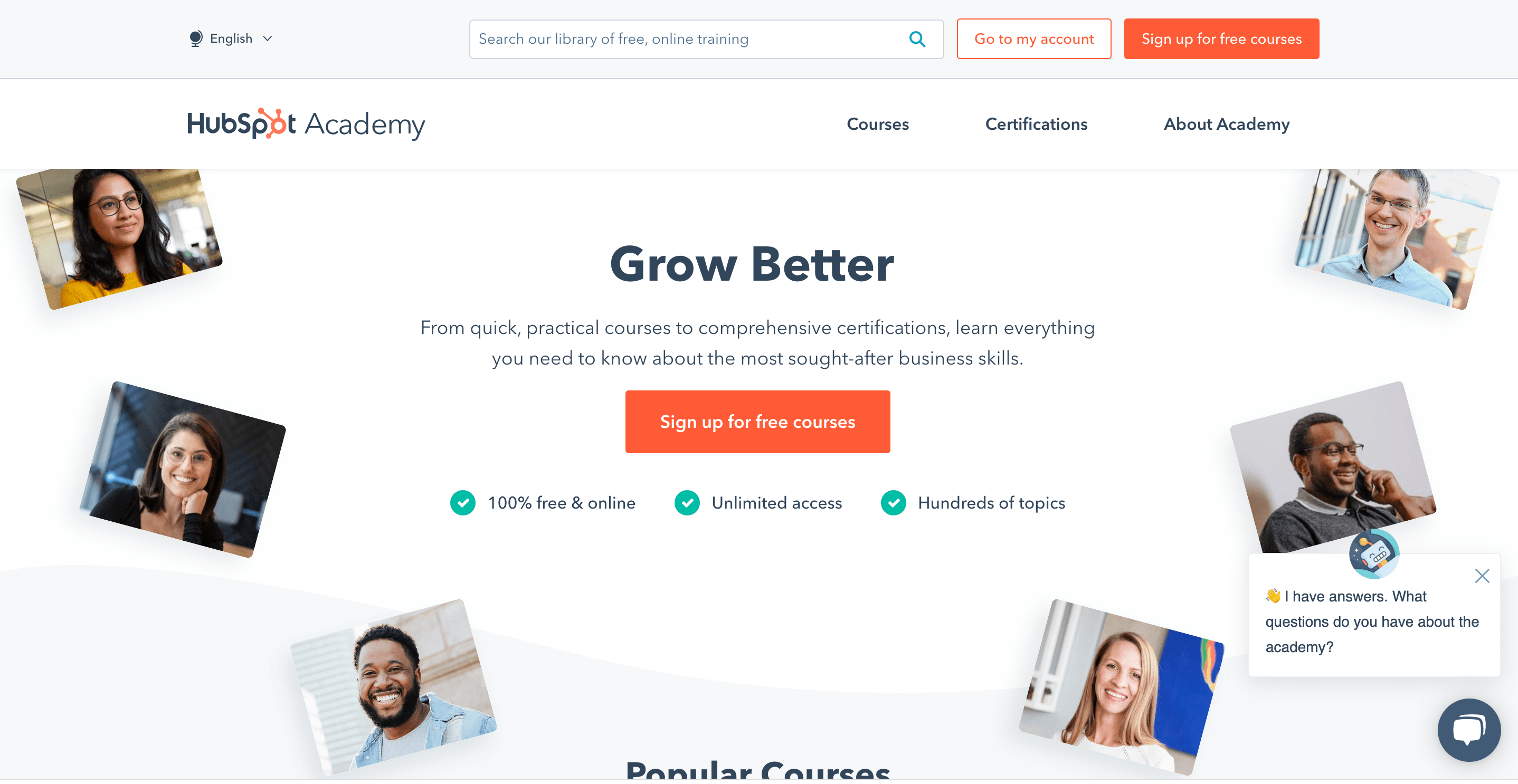 But, apart from accessibility, which impacts satisfaction, retention and other important metrics, what are the other benefits of a cloud LMS?
Robust
A cloud-based LMS runs off data center hardware and software, which is far more powerful and scalable. As such, cloud technologies can greatly augment the limited capabilities of the typical laptop or smartphone.

Since all computing work is handled off-site, a cloud LMS has the power to handle large and complex workflows, such as enhanced data analytics and even virtual and augmented reality.
Quick Implementation
Traditional, legacy learning technology was bulky and hard to work with for even the most experienced pros. Think about the first computer. It was cool, sure, but it was a pain to get up and running. As technology advanced, computers became easier to use. Just go to the store, buy one and you're pretty much good to go.

The same goes for learning management systems. In the past, the technology was difficult to implement, which deterred some from ever getting started. Those that did a drawn-out implementation ate into time that could otherwise be spent delivering impactful learning experiences.
A cloud LMS is much easier to implement, meaning that even learning teams dipping their toes into online learning for the first time can get an academy off the ground quickly and without a ton of resources.
Secure
We live in a world where security often reigns supreme, especially when it comes to data; it's why the cybersecurity market continues to grow.
From a business standpoint, unsecured data has its obvious consequences. From a learners' standpoint, it can erode trust and negatively impact the learning experience.
Cloud LMSs are hosted securely and are generally better encrypted, meaning that businesses can rest easy knowing that not only is learners' data safe, but the learning experience is less likely to be impacted.
Scalable
A locally hosted LMS is limited by the hardware and operating system it's running on. Even if the software is hosted in an internal data center, a significant increase in demand may warrant costly upgrades.

A cloud LMS, on the other hand, runs in a major data center, which means it has practically unlimited capacity. There's no need to worry about costly hardware upgrades. Instead, you can simply add and remove users and pay only for the capacity you need.

Scalability is especially beneficial to newer teams who may be using an LMS to train a smaller customer or partner base or workforce. As the program scales, these teams can streamline a more robust onboarding program without needing to switch to a more advanced LMS.
Reduced Management Burden
All software and hardware need maintenance and upgrades to ensure that performance and availability are always up to expectations. However, cloud-hosted software is maintained and kept up to date by the service provider.

They'll be responsible for things like security patches and feature updates, thereby eliminating the management burden. In other words, you don't need an internal IT team. Instead, you can focus on creating your online courses instead of getting bogged down in the complexities of technology.

Cost Effective
Traditionally, virtually all software applications were acquired under a one-time purchase. Any maintenance and upgrades were the responsibility of the company and often incurred extra costs. These ongoing costs are notoriously difficult to predict, especially when it comes to the resolution of unforeseen issues.

With a cloud LMS, there are typically no upfront costs and the only ongoing expense is the subscription fee. These fees are typically charged on a per-user basis. That way, you have complete visibility into long-term expenses, thus helping you budget more effectively and keep track of your return on investment (ROI).

Who Should Use a Cloud-hosted LMS?
Everyone.
Seriously.
Most businesses can benefit from using a cloud LMS, regardless of their industry. However, the advantages are especially noteworthy for fast-growing companies that are currently finding it difficult to keep up with the demands of training and onboarding. The same is also true of companies providing proprietary knowledge to ever-increasing customer headcounts.
Purchasing a cloud LMS makes life easier for many business departments, such as field operations, human resources, product teams, and sales and marketing teams. If you need a consistent and highly accessible way to provide training content to your team, then a cloud LMS is exactly what you need.
Are There Other Types of Learning Management Systems?
Yes, of course. If a cloud-based LMS isn't for you, there are other types of learning management systems from which to choose.
Installed LMS (On-premise LMS)
With an installed- or on-premise LMS, you host your academy on your servers. These aren't as common, but they do give you more control of your academy and data, which is especially beneficial for companies that really prioritize security.
That said, as your academy grows, this type of LMS can take up a lot of server space and become costly to maintain.
Open-source LMS
Open-source LMSs are free and adaptable to your specifications. That said, they'll generally require additional design and development resources that can become costly from both a financial and timing standpoint.
Overall, an open-source LMS is great for someone looking to create something custom but doesn't want to start from scratch.
Custom LMS
A custom LMS gives you total control over your academy. A custom LMS is perfect for more established learning programs and teams with larger budgets as they usually require more time and development resources.
Best Cloud-based Learning Management Systems (LMS) in 2022
Looking for the best cloud-based LMS? Start your search here.
1. Northpass
Northpass is a cloud LMS that gives teams training their customers, workforce or partners the ability to easily create, manage and scale their programs.

Northpass' easy-to-use platform provides simple course authoring, intelligent administration and perfectly integrated learning experiences — all driven by the best support in the industry.
Northpass is the only completely customizable LMS, allowing teams to completely align their academy with all brand touchpoints.

Northpass is also the only cloud-LMS available in The HubSpot Marketplace, giving Sales, Services and Marketing teams the ability to bring learning data into HubSpot.
2. Docebo
The Docebo Learning Suite provides businesses with a suite of tools they can use to manage content, deliver training and measure the business impact of their programs.

Working with Docebo gives businesses access to various tools, including Learn LMS, its flagship and AI-powered product that enables virtual coaching, auto-tagging and content suggestions.
3.

LearnUpon LMS

Combining user-focused technology and industry-leading expertise, LearnUpon LMS is a solution businesses can use to deliver impactful enterprise-level training to their employees, partners and customers.

LearnUpon LMS offers a variety of impactful features, including LMS portals that allow learning teams to configure training for different audiences. LearnUpon LMS also integrates with popular tools, including Salesforce and Zapier.
4.

Skilljar

Skilljar is an external LMS that helps businesses educate, engage and retain everyone they do business with, including their customers and partners.

Skilljar offers actionable data and insights to help learning teams measure business impact, track learning progress and evaluate content. It also has enterprise-ready support to help businesses manage security requirements and a global learner base.
5. Lessonly by Seismic
Lessonly by Seismic is a training, coaching and enablement solution that helps Sales Enablement, Sales and Marketing teams ramp up faster, deliver feedback and improve.

The company's Enablement Cloud enables the management of sales content, learning and coaching, strategy and planning, content automation, buyer engagement and enablement intelligence.
6. SAP Litmos
SAP Litmos Training powers training for enterprise companies.
SAP Litmos unifies virtual, classroom, mobile and social learning to empower training teams, sales and service leaders, safety and compliance managers and HR teams to collaborate, author, distribute and track online learning.

SAP Litmos Training comes with an online course builder, tracking and reporting capabilities, task automation and ILT capabilities. The cloud LMS also includes a library of courses.
7.

360Learning

360Learning combines collaborative tools with the power of an LMS to help companies unlock learning based on their expertise instead of top-down knowledge.

360Learning uses AI and collaborative features to turn in-house experts into learning and development (L&D) collaborators.

With 360Learning, businesses can create courses easily, while discussion forums, upvotes and reactions enable collaborative learning.
8.

TalentLMS

TalentLMS is used by teams that provide onboarding training, compliance training, customer training, partner training and sales training.

TalentLMS makes implementation easy with capabilities that make creating new courses easy.

TalentLibrary offers a collection of unique-ready-made courses, like Sales Training Essentials, that cover the skills teams need to succeed at work.
9.

Absorb LMS

Absorb LMS empowers companies to deliver consistent and on-brand training to internal employees, customers, partners and more.

Absorb Intelligence, an AI-powered set of capabilities simplify tasks and gives learners more chances to gain new skills and knowledge while allowing teams to improve the learning experience.

AbsorbLMS also allows learners to train offline by syncing course progress when an internet connection is restored.
10.

WorkRamp

WorkRamp is the all-in-one LMS that allows businesses to create content at scale and deploy training to internal teams, customers and partners.

With WorkRamp Dashboards and CRM integrations, teams can surface important metrics like revenue impact and customer health.