Today, we're excited to announce the debut of Enhanced Learning Sites. This is a new way to experience Northpass-powered learning programs.
But, before we dive into the details, we want to let you know why we made this change.
Since Northpass' founding, we've been on a mission to unlock digital learning's potential by making it more engaging and more impactful. Over the years this meant the addition of new features and functionalities. But as user expectations have changed, on a personal and professional level, we reevaluated how Northpass can deliver a more frictionless learning experience as we continually evolve the platform.
Simply put, we wanted to better meet user expectations — administrators and learners, alike — by incorporating intuitive design so people can get more value out of Northpass.
Now, let's take a closer look at Enhanced Learning Sites.
Your New Home Screen and Course Cover Screen
Let's face it, first impressions matter.
Knowing that, we updated our Home Screen and Course Cover Screen with a more aesthetically appealing and user-friendly experience. This way, learners obtain the most critical information in an easy-to-consume way.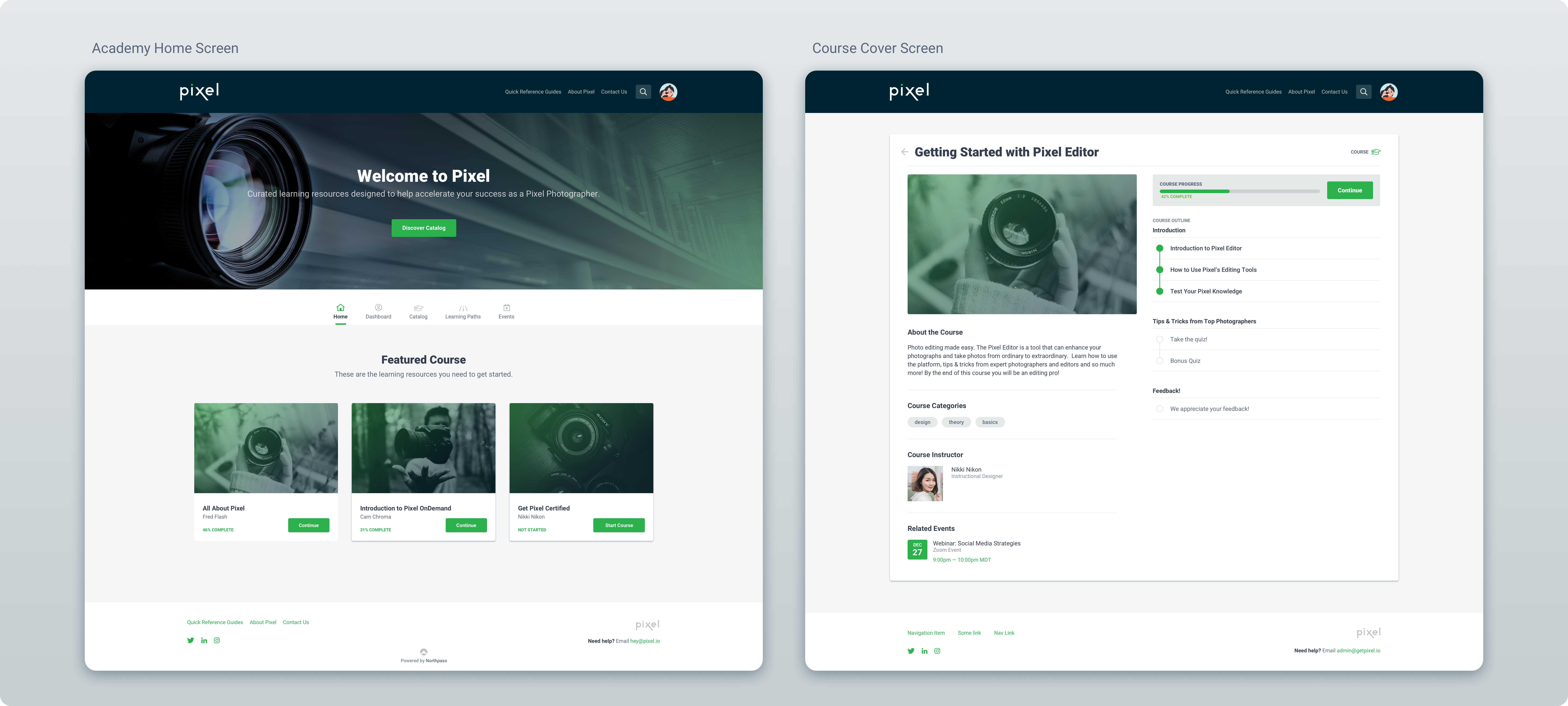 By elevating these designs, we wanted to ensure that your learners quickly understand their progress within courses and can easily grasp where they are in their journey along their respective learning paths.
Added Functionality
In the spirit of keeping the user experience streamlined, we focused on two areas: 1) A new sub-navigation; and, 2) An upgraded search function.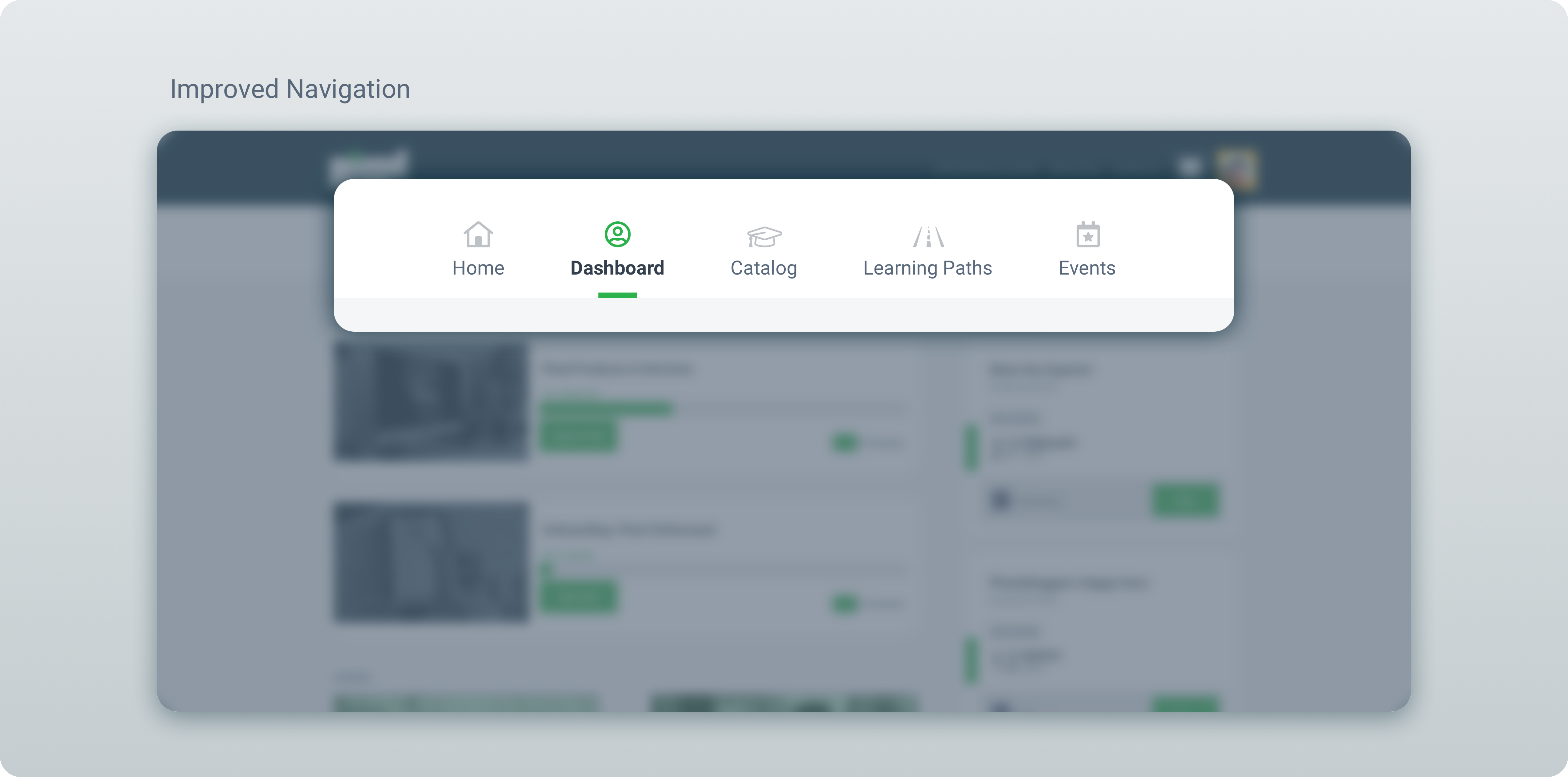 We know that learners may be finding themselves toggling between courses, events and learning paths quite often. Now with a centrally-located sub-navigation, every learner has easy access to the exact view that will assist them in progressing through their learning experience.
Additionally, as people have become more accustomed to "Googling it," we've upgraded our search function so that all results will appear together. This reduces redundancy. We've also added filtering between courses, events and learning paths, so learners can search in an easier fashion. One neat touch we like is when you enter a search term in the search bar, there will be a preview — this should reduce time-to-value when people are looking for a specific item.
Better Readability
The Northpass team has reorganized our learning sites' designs, overall, with a greater emphasis on consistency, page flow and page layout.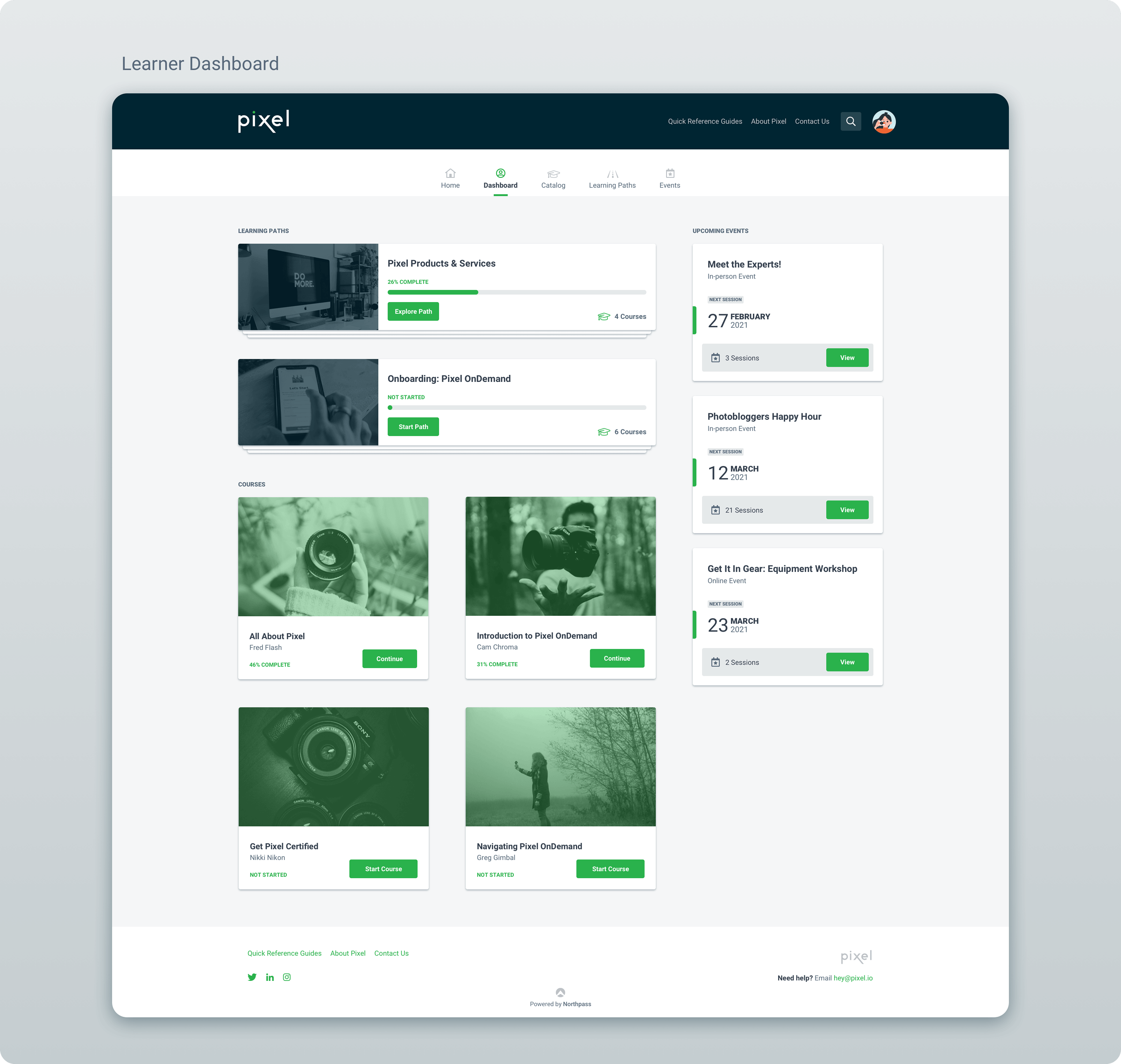 This translates to a design that works in greater harmony with what's displayed on the page. The end goal: To keep the most important details front and center so learners can digest the most critical information as fast as possible.
One way we did this is through the use of "smart" layouts. For example, if a learner is not enrolled in a course, its description is prioritized in the layout so that learners can read it and decide if they want to engage.
Additionally, our layouts are now more adaptive to our customers' variables. By taking advantage of the whole screen, our elevated design keeps its sleek appearance in situations where there may be no events or learning paths.
Greater Mobile Optimization
As we see online training as learning that should be easily consumable and digestible, we've always prioritized a mobile-optimized design so people can learn "on the go." That said, we've leveled up our mobile look and feel with Enhanced Learning Sites.

We've made design decisions to make the mobile user experience even better. This includes leveraging "smart" layouts, increasing the sizes of our buttons and ensuring that our navigation is easier to use on any device a person wants to learn on.
One More Thing
The Northpass team is extremely excited to provide you with our Enhanced Learning Sites. But, as is the case with design, the job is never truly done. This enhancement simply lays the groundwork for a continual evolution of the Northpass platform, which will add more powerful features and functionality in the months and years to come.
Want to see Enhanced Learning Sites in action?
Book a demo with a Northpass team member today and they'll be happy to show you around.