Picture this: You're a newly minted Marketing Manager at an up-and-coming SaaS company tasked with amplifying your company's market presence and generating leads for your Sales team.
Like any marketing pro, you decide to lean on marketing automation software to streamline your day-to-day and improve performance. Unfortunately, you're not familiar with this particular tool.
But you're in luck because the company offers a digital customer academy.
Here's the plot twist: You quickly find yourself lost in a sea of generic tutorials because the software company didn't embrace segmentation. As a result, the content isn't catered to your unique needs as a novice.
Your disappointment grows as you grapple with finding content relevant to your subscription plan. It's a disaster, and your excitement is quickly replaced by frustration, hours of wasted time, and an investment in a piece of software that looks increasingly unappealing.
This story is a classic example of the pitfalls of a one-size-fits-all approach in customer education. It's also the perfect launchpad for an article about segmentation and how it can transform your digital customer education program.
What's Customer Segmentation?
Customer segmentation in the context of customer education refers to the practice of dividing your customers into groups based on factors such as their product needs and learning preferences, with the goal of providing tailored content.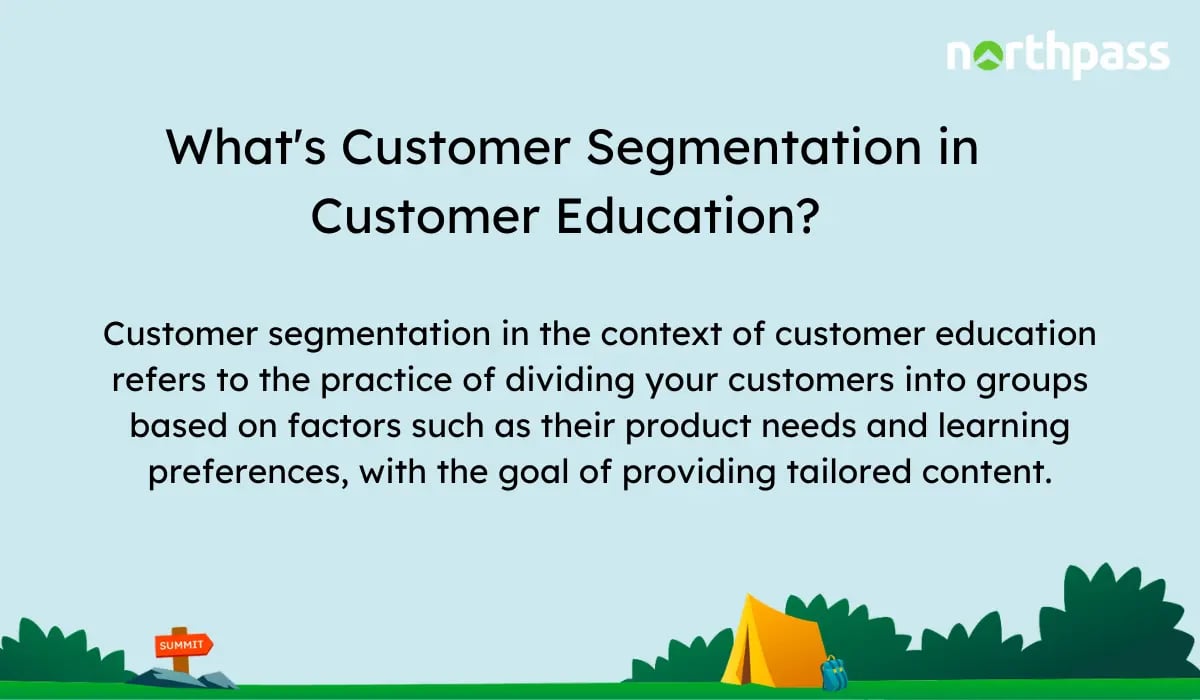 6 Ways to Segment Your Customers
Your customers learn in different ways.
They also use your product for different reasons, meaning that one-size-fits-all content will often miss the mark.
This is why segmenting your customer education program is so important.
Here are a few of the most common ways: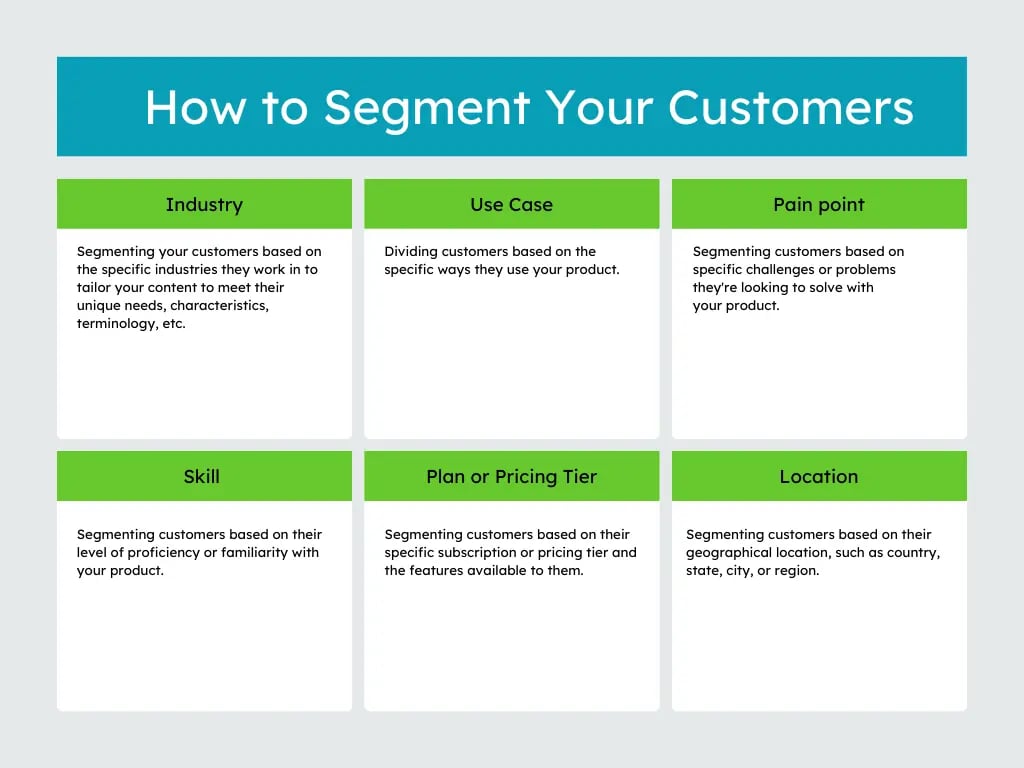 By industry: Segmenting your customers based on their industries to tailor your content to meet their unique needs, characteristics, terminology, etc.

Example Content:


Using Project Management Tools in SaaS: A Practical Guide
Project Management for eCommerce Startups: Boosting Efficiency with Our Product
Streamlining Manufacturing Operations with Project Management

By use case: Dividing customers based on the specific ways they use your product.

Example Content:

Mastering SEO: Optimize Your Website with Our Digital Marketing Tools
Winning with Social Media: A Guide to Using Our Tools for Effective Management
Transform Your Marketing Automation: Strategies and Best Practices with Our Suite


By pain point: Segmenting customers based on challenges or problems they're looking to solve with your product.

Example Content:


Overcoming Project Management Hurdles: Maximizing Efficiency with Our Software
A Guide to Using Our Software for Better Communication
Mastering Task Prioritization: Strategies for Effectively Using Our Tools

By skill level:

Segmenting customers based on their level of proficiency or familiarity with your product.



Example Content:


Getting Started with Our Graphic Design Platform
Taking Your Designs to the Next Level: Intermediate Techniques
Mastering Our Graphic Design Platform: Advanced Tutorials for Experts

By plan: Segmenting customers based on their subscription or pricing tier and the features available.

Example Content:


Maximizing Your Basic Plan: A Guide to Our Solutions
Using the Premium Plan: Unlocking Advanced Features
Optimizing Your Business Plan: Mastering Corporate Cloud Storage Solutions
By location: Segmenting customers based on their location, such as country, state, city, or region.

Example Content:


Ecommerce Success in North America: A Guide to Our Solutions
Navigating the European eCommerce Landscape
Localizing Your eCommerce Strategy
The Impact of Segmentation on Customer Education and Training
Rarely is a one-size-fits-all approach suitable for customer training and educaion, especially as your business grows and accommodates a broader range of customers.
Personalization is more than just a buzzword. It's become a business imperative in a time when customer retention depends heavily on the experience that customers have when using your products.
Rather than giving all your customers the same content, segmentation helps you streamline the onboarding and training process by giving them the content that's most relevant and useful to them.
This targeted approach ensures customers can start getting more value from your product in less time, thus greatly increasing your chances of retaining them.
Moreover, it also saves time for your customer success and support teams, allowing them to better focus their efforts on creating engaging content and serving it up to the right people.
If, on the other hand, you're delivering the same customer education experience to everyone, you'll probably end up dealing with a lot more support tickets as customers try to navigate their way around your product.
By segmenting your content, you ultimately ensure that your customers have the resources they need to get up to speed with your product quickly and realize long-term value. With this outcome-based approach, you can increase product adoption, satisfaction, and retention rates. These factors combined help you maximize customer lifetime value (CLV), which is especially important in today's unpredictable and highly competitive economic environment.
How to Segment Your Customers
Don't start blindly breaking your customer base down into groups. Instead, dive into a methodical and data-driven approach that helps you truly understand what topics your customers need to succeed.
Here's how:
Identify Variables: Determine which criteria/variable you'll use to group your customers in a meaningful way so that you can create content that's valuable to them (and you), e.g., demographics, product usage, etc.

Pro Tip:

Keep your business objectives and customer education goals in mind. The most effective segmentation will align with what you're trying to achieve with customer education. For example, if your goal is to increase retention and upsell advanced features, you may want to segment by product usage or the number of years they've used your product (which can help determine their level of expertise).
Setting SMART Goals for your Customer Education and Training program? Check out this free template today.
Collect Data: Gather customer data based on your variable(s) via sources like surveys, sales data, customer success and service interactions, and learning data (if available).



Pro Tip:

Use all available data sources. Even seemingly unimportant details might reveal meaningful trends or insights into your customers.
Analyze and Segment: Analyze the collected data to identify patterns and trends, and use these nuggets of wisdom to segment your customers into groups.

Pro Tip: Don't create too many segments at the very beginning as too many segments can make your customer education program overly complex and difficult to manage.
Once you segment your data, validate the effectiveness and relevance of each segment. However, it's important to remember that customer segmentation is an iterative process that you'll need to regularly reevaluate and improve upon as your business grows and evolves.
By constantly monitoring your customer data and revisiting the insights it yields, you can continually improve your segmentation and tailor your onboarding and educational content accordingly.
Challenges and Solutions in Customer Segmentation
While there's no denying the many benefits of customer segmentation, there are challenges as well.
Gathering data at scale can be time-consuming and complicated, especially if you're largely reliant on manual means. However, solutions like customer relationship management (CRM) software and analytics platforms powered by artificial intelligence and machine learning can make the process easier. A lack of data is rarely a problem in itself, but it can take time to identify which data is actually useful.
Defining your audience segments can also be difficult, especially if your business is quite new and doesn't yet have a highly developed client base. The key here is to be clear on your objectives and have well-researched customer personas to refer to. You can't expect to get everything just right the first time, especially if you're new to the process. That's why you'll need time to gain a deeper and more granular understanding of your customers and refine your approach from there. After all, customers are rarely static, and their needs and preferences will evolve and change over time.
Perhaps the biggest challenge of actually implementing a customer education program is that it inevitably requires a higher and more diversified volume of educational materials. However, while this is an undeniably resource-intensive process, it will pay off in dividends with higher retention rates and lifetime value. With a targeted and streamlined approach, both customers, new and old, will have everything they need to start enjoying your offer to its fullest.
Want to learn more about segmenting your customers or launching your academy? Reach out to us today. Well be in touch.